Celebrating Dreams Webinar: Bringing Diversity to Your Organization
May 13, 2021 @ 11:30 am

-

1:00 pm

Free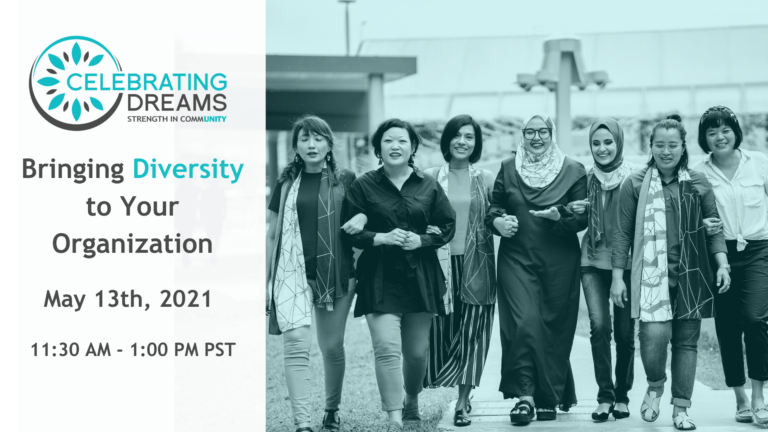 Business owners that wanted to survive, let alone thrive, during the pandemic had to adapt to the rapidly changing circumstances and regulations. To remain competitive in 2021 and beyond, a focus on diversity, equity, and inclusion (DEI) is essential.
Diverse and inclusive businesses drive groundbreaking achievements through increased innovation and connection to their employees and customers. Bringing diversity to your organization will enrich your small business, connect you to your customers, and benefit your community. Traci Harrell, It's All Bigger Than Me, and JMarie Johnson-Kola, Diverse Community Connectors, will share practical ways businesses can embrace diversity, the potential challenges along the way, and effective method of creating engagement across communities.
This presentation will cover:
The Value of Diversity (Benefits & WHY), Community Connections & Civic Engagement
Embracing Transformational Leadership with Heart & Soul®
Igniting Possibilities
About the Presenters:
JMarie Johnson-Kola, Founder and Chief Engagement Officer, Diverse Community Connectors
JMarie Johnson-Kola is a 10-year Marine Corps Veteran who loves living in Puyallup with her husband, son, and mother. She is also a community and church leader, as well as a PhD candidate focusing on transformative social change in communities.
Ask the Chief Engagement Officer of her small business Diverse Community Connectors LLC, JMarie brings neighbors together to co-create a healthy community through strategic mapping, convening, and facilitation.
Traci Harrell, It's All Bigger Than Me

Traci Harrell is a Diversity & Inclusion Consultant, an International #1 Best-Selling Author (in 8 countries and 16 Amazon Book Categories), a Leadership Trainer, Keynote Speaker, Facilitator, Producer, and an Entrepreneur.  She has contributed to 4 books including:  'Ignite Happiness', 'Ignite Your Inner Spirit', 'Ignite Possibilities', and is now leading a compilation series called, 'How to Ignite Inclusion'.  In 2020, Traci received the distinguished Honor of being voted in the "Top 100 Executive Leaders under 50″.  She has over 25 years of diverse Corporate/Leadership Experience (with 8 years at IBM, 14 years at Disney, and 5 years at Microsoft). Her areas of business expertise include: Strategic Planning, Business Consulting, Project/Program Management, Technology & Innovation, Customer/Partner Experience, Business Controls, International/Internal Audit, and Organizational Transformations & Change Management.  
Traci is President of It's All Bigger Than Me Consulting, a full-service training and consulting company supporting Individuals, Teams and Organization to become more effective and at ease with the topics of Inclusion, Leadership & Happiness.  She says, "You can have it all, and enjoy the journey along the way".  Traci helps Leaders to change the status quo at a systemic level, by increasing their ability to lead authentically, learn collectively, and build collaboratively with a proven Process to create a more Inclusive environment, while supporting Equity in Business.
Traci is a respected Community advocate and a Change agent, passionate about giving back and enabling others to do the same.  She currently serves as President of the National Black MBA Association®, Seattle Chapter (the largest professional organization in the country).  She also serves on the Leadership Team for SCORE® Seattle, as the Chapter's Diversity & Inclusion Champion (SCORE® is a resource partner with the U.S. Small Business Administration (SBA®).  Traci hosts and produces a LIVE Radio, YouTube and online TV Program, called 'Bigger Than Me'.  She has dedicated her life to helping others to live their best lives with Purpose, Joy & Intention.  
 More Information/ Register
https://businessimpactnw.ecenterdirect.com/events/7381