Tukwila Village Farmers Market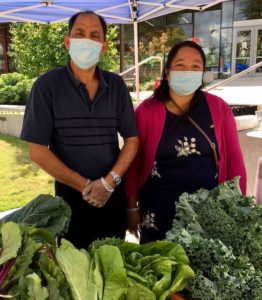 Come buy fresh produce grown by refugees and immigrants in our community!
Our market accepts SNAP benefits and doubles them with SNAP Market Match. We also accept Heart Bucks, which work like cash and help those who need assistance buy fresh produce. Stop by the SHAG tent to see if you qualify for Heart Bucks, which are provided by the American Heart Association.
Customers may also pay with cash, debit, or credit cards.
Tukwila Village Farmers Market's 2020 season runs from June 24 through mid-October. We're open on Wednesdays from 4 to 7 p.m. for the general public, with an additional hour from 3 to 4 p.m. reserved for shoppers who are 60+ and others who are most vulnerable to COVID-19. The market is located at Tukwila Village Plaza (14350 Tukwila International Blvd, Tukwila).
Global to Local's mobile Connection Desk is on site during market hours to offer free assistance with health care, unemployment, housing, ORCA LIFT, and other resource referrals.
We follow all public health guidelines to ensure a safe market experience. During the pandemic, we are making some changes to the market:
We ask all shoppers to wear face coverings in line with our county's public health directive.
Shoppers will enter and exit through separate designated areas. Please follow signs, maintain at least six feet of distance from others, and ask our staff if you have any questions.
We'll limit the number of shoppers inside to ensure proper social distancing.
We'll screen shoppers, vendors, market staff, and volunteers for COVID-19 by asking about symptoms, and by taking temperatures using a contact-free thermometer. We'll direct anyone who has symptoms to COVID-19 resources, and they will not be allowed to enter the market. Please stay home if you have any COVID-19 symptoms, or if you have been exposed to someone who has COVID-19.
We will have hand wash and sanitizing stations available at the market entrance and throughout the market, and we ask shoppers to wash or sanitize their hands frequently.
We'll be open an extra hour, from 3 to 4 p.m., to serve shoppers who: are 60+ years old; have underlying health conditions such as heart disease, lung disease, diabetes, or weakened immune systems; or are pregnant.
Cooking demonstrations and hot food are not available this season.
We're working with vendors to set up online pre-ordering; we'll update this page as that option becomes available.
Subscribe to our email newsletter to receive updates about Tukwila Village Farmers Market. You're welcome to review our full market safety plan and contact us if you have any questions.
Namaste Farm Stand at Matt Griffin YMCA
Namaste Farm Stand's 2020 opening date is uncertain because of the pandemic. Please subscribe to our email newsletter to receive updates about Namaste Farm Stand's schedule.
Taste Around the Globe at Farmers Markets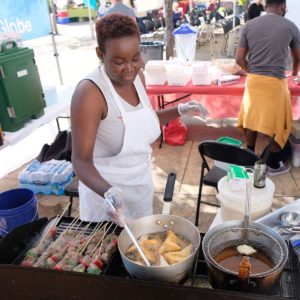 Our Taste Around the Globe booth features businesses that participate in our Food Business Incubator. In 2019 we were at five farmers markets in South King County and Pike Place MarketFront in Seattle.
Taste Around the Globe's 2020 schedule has been affected by the pandemic. We plan to host businesses offering packaged food at Tukwila Village Farmers Market, and hope to join more farmers markets as the season progresses.
Please subscribe to our email newsletter for updates.