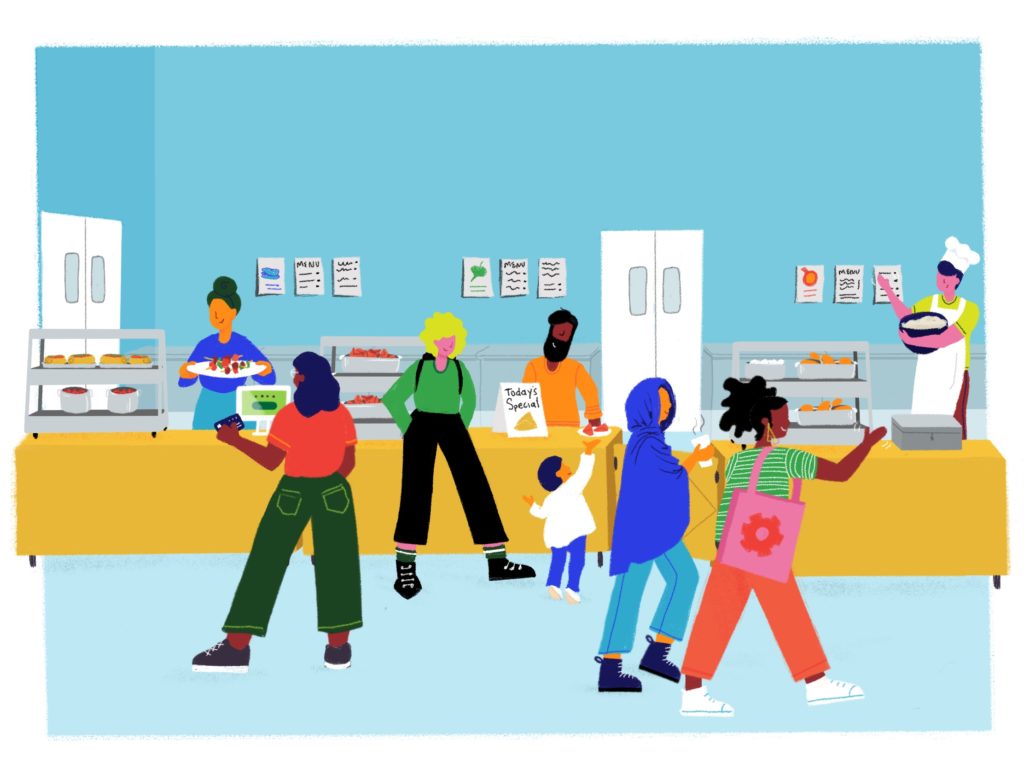 The Project
Food businesses have traditionally been a way for many striving immigrants and low-income families to make a living. However, skyrocketing real estate and rental rates are making it difficult for these entrepreneurs to access commercial kitchen and restaurant spaces in South King County.
Spice Bridge will provide the space and support to help these entrepreneurs launch and scale to successful local businesses. Spice Bridge will also provide a community hub—a space where people can gather to learn about and celebrate the community's rich food traditions.
The 2,800-square-foot facility will include a commercial kitchen with four cook stations, five food retail stalls, and a community dining area. The space will accommodate 20 food businesses that will either rent retail kiosks in the public dining area, or use the kitchen for off-site sales, such as catering and farmers markets.
The facility will allow for expansion of FIN's Food Business Incubator pilot program, which provides services including subsidized rent at a shared commercial kitchen, permit assistance, market channel development, and other business supports.
Spice Bridge will be in Tukwila Village, a new mixed development with 400 new affordable and market-rate apartments managed by Sustainable Housing for Ageless Generations (SHAG), a nonprofit organization. Construction began in December of 2018, and the facility will be ready for operations in summer of 2020. Architectural designs and equipment layout have been completed. We are now working closely with the developer, Pacific Northern Construction Company, to build out the necessary tenant improvements.
Capital Campaign
Building out the facility and installing kitchen equipment will cost about $1 million. We've already secured two-thirds of this amount!
Communities of Opportunity and the Port of Seattle have provided support in the pilot testing, pre-construction needs, and program expansion. The State of Washington has appropriated $400,000 in its capital budget to support the project; the budget request was sponsored by Sen. Bob Hasegawa, and supported by dozens of local businesses, nonprofit organizations, and community leaders.
We continue to seek sponsors, and have launched a capital campaign to help raise the remaining funds. Would you like to make this community dream a reality? Help us in the final stretch:
Make a gift online – donations of any size are welcomed.
Join our crowdfunding campaign and help us spread the word.
Join our Kitchen Club to help equip the facility.
Order a Spice Bridge Meal Box—a portion of sales will support Spice Bridge.
Contact us about naming opportunities – the new food stalls, dining area, kitchen, children's play area, and "It Takes a Village" donor appreciation wall present opportunities to recognize contributors.
Do you have kitchen equipment or other resources that would help build out this space? Please check out our equipment wish list and join our Kitchen Club of supporters!
Participate in our community art project–a community mural and other art installations will grace the new space.
To learn more and get involved, please contact FIN Program Director Kara Martin: kara@foodinnovationnetwork.org or (206) 850-2877.
Food Stall Vendors

In November of 2019 we invited businesses to sell food at Spice Bridge and join the Food Business Incubator. We will work closely with the entrepreneurs to get them licensed, insured, and ready for the opening in summer of 2020.
Please sign up for our newsletter to receive updates on Spice Bridge!