Location and Hours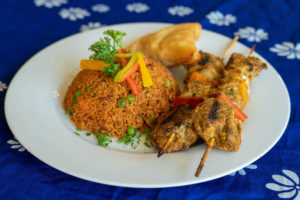 Come by for safe takeout and outdoor dining!
We're located in Tukwila Village at 14200 Tukwila International Blvd. Suite 141, Tukwila, WA 98168.
Tuesday-Saturday: 11am-8pm
Sunday: 10am-4pm
Monday: Closed
Food Stall Vendors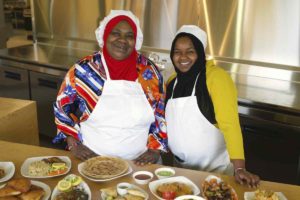 Four businesses currently offer delicious foods and beverages:
On Oct. 1, four more businesses will join the rotation:
Wengay's Kitchen will be the area's go-to source for authentic Filipino food.
Jazze's will offer Afghani food made from organic, locally-grown ingredients.
Theary Cambodian Foods will serve authentic Cambodian/Khmer cuisine.
WUHA will offer "fast" Ethiopian food options, serving both authentic foods and American foods cooked with Ethiopian spices as a gateway to more traditional dishes.
Please sign up for FIN's newsletter and follow Spice Bridge's new Facebook and Instagram channels to keep up with the latest news!
The Project
Food businesses have traditionally been a way for many striving immigrants and low-income families to make a living. However, skyrocketing real estate and rental rates are making it difficult for these entrepreneurs to access commercial kitchen and restaurant spaces in South King County.
Spice Bridge provides the space and support to help these entrepreneurs launch and scale to successful local businesses. Spice Bridge will also provide a community hub—a space where people can gather to learn about and celebrate the community's rich food traditions—when it is safe to open for indoor dining.
The 2,800-square-foot facility includes a commercial kitchen with four cook stations, four food retail stalls, and a community dining area. The space accommodates up to 20 food businesses that either rent retail stalls in the public dining area, or use the kitchen for off-site sales, such as catering and farmers markets.
Spice Bridge allows for expansion of FIN's Food Business Incubator pilot program, which provides services including subsidized rent at a shared commercial kitchen, permit assistance, market channel development, and other business supports. Our pilot has already helped launch 12 businesses, and we're excited to support more businesses through this new space!
In addition to helping to create economic security for business owners and their families, Spice Bridge helps build food security in our community. The space supports FIN's Tukwila Village Farmers Market, which makes fresh, local produce affordable and accessible for community members. Spice Bridge is also utilized for FIN's community meals program, which has provided more than 7,600 no-cost meals for seniors and families in need.
Spice Bridge is located in Tukwila Village, a new mixed development with 400 new affordable and market-rate apartments managed by Sustainable Housing for Ageless Generations (SHAG), a nonprofit organization.
Capital Campaign
Building out the facility and installing kitchen equipment will cost about $1 million. We've already secured two-thirds of this amount!
Communities of Opportunity and the Port of Seattle have provided support in the pilot testing, pre-construction needs, and program expansion. Taxpayers of Washington State contributed $392,000 from the state's capital budget to support the project; the budget request was sponsored by Sen. Bob Hasegawa, and supported by dozens of local businesses, nonprofit organizations, and community leaders.
We continue to seek sponsors, and have launched a capital campaign to help raise the remaining funds. Would you like to make this community dream a reality? Help us in the final stretch:
Make a gift online – donations of any size are welcomed.
Join our crowdfunding campaign and help us spread the word.
Join our Kitchen Club to help equip the facility.
Contact us about naming opportunities – the new food stalls, kitchen, children's play area, and "It Takes a Village" donor appreciation wall present opportunities to recognize contributors.
Participate in our community art project – community portraits and other art installations will grace the space.
To learn more and get involved, please contact FIN Program Director Kara Martin: kara@foodinnovationnetwork.org or (206) 850-2877.