Who We Are
The Food Innovation Network (FIN)'s mission is to enhance the local food system, increase access to healthy food, create pathways for success, and support resource and idea-sharing that engages the diverse communities of SeaTac/Tukwila and South King County.
We use a collective impact model to bring diverse expertise and organizational experience together in collaboration. Our network includes organizations, educational institutions, local government, and community members. A program of the non-profit organization Global to Local, FIN is governed by a Steering Committee made up of organizations and community advocates. We are a collaborative network that works with partners and community advocates through projects and programming.
Our Work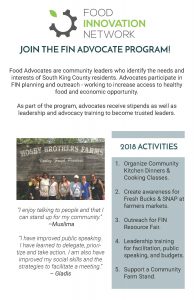 We encourage and support residents to take leadership roles within FIN's governance, bringing an authentic community voice to our work. We also train and employ residents through our Community Food Advocate program. Community Food Advocates (Advocates) are leaders in their communities that work with us to identify the common barriers and needs of South King County residents. Advocates are key to our strategic planning and choosing culturally appropriate techniques and activities to support policy and systems change.
Paid through stipends, advocates are trained in leadership and advocacy skills and learn through hands-on experience. Encouraged to take on leadership roles within FIN, several have become Co-Chairs to working groups and participate in Steering Committee. The ultimate goal is for these leaders to take on active decision-making roles in FIN as well as other organizations, institutions, and civic agencies.
Staff Contact: Njambi@foodinnovationnetwork.org 
Community Engagement
As a community-oriented network, responsive engagement is the foundation for all of our work. The Community Engagement Work Group organizes activities based on feedback and demand from community voice. Activities include hosting an annual Resource Fair and Community Kitchen Dinners as well as attending other community events.
Staff Contact: Sheelan@foodinnovationnetwork.org 
Food Access
Our goal is to address racial inequity in our food system by creating a farm-to-fork distribution channel and connect people to food. In 2017 FIN opened SeaTac's (only) farm stand with our partner, the IRC New Roots program. The community food advocates received training on Fresh Bucks and SNAP benefits. This training allowed them to help more people access fresh, affordable food in their outreach.
In 2018, we hired a food access coordinator and opened a location of Namaste Farm Stand in Tukwila, while continuing to host community trainings and outreach in the community.
Staff Contact: Kamal@foodinnovationnetwork.org 
One of the biggest barriers to success in starting a food business is the lack of affordable commercial kitchen space. Community engagement has confirmed a great interest in starting food businesses and building food industry skills among residents in South King County (Read our Phase 1 Food Business Incubator Feasibility Study, completed in 2015). In 2017, FIN piloted a food business incubator that offers commercial kitchen space, market channel development and cross-organizational resources to a cohort of FIN entrepreneurs.
We have helped launched nine businesses, and are now working toward building the Tukwila Village Food Hall, where we'll be able to support 20 businesses. Learn more about this project here.
Staff Contact: Kara@foodinnovationnetwork.org 
Urban Agriculture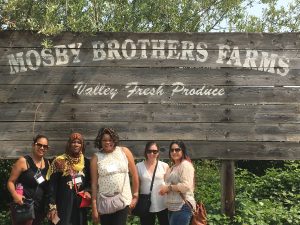 Land access for agriculture in urban areas is critical for marginalized communities. In 2017 we initiated the South King Urban Ag Network (SKUAN) to improve resource sharing and collaboration among partners.
In 2018 we are conducting extensive outreach to connect aspiring growers to land and technical assistance so they can begin to grow food. This work is done with SKUAN and partners, Forterra, and Farm King County.
Staff Contact: Kara@foodinnovationnetwork.org 
Our Staff
For full staff contact information, please visit our contact page.