Dining Out for Life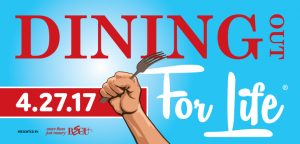 Lifelong's Dining Out For Life presented by BECU returns for its 24th year on April 27!
On this day, over 100 restaurants in the Seattle area will donate 30-50% of their proceeds to Lifelong's vital programs that support people facing serious illness and poverty in our community.
Click HERE for Participating Restaurants!
Because of your support (and the support of others like you!) in 2016 we were able to feed over 1,900 individuals by providing 36,500 bags of groceries and 170,000 nutritious meals to those in need. Dining Out for Life is one of our biggest, most important fundraisers of the year—it's been going strong in Seattle for over 20 years, and ensures that our food program, Chicken Soup Brigade, can continue to provide our clients with healthy food catered to their specific medical conditions. DOFL also ensures that our other life-saving programs can continue to support the clients who need them the most.
How you can get involved:
Dine out!
Restaurants sign-up each day, so make sure you are visiting the Dining Out for Life website regularly. From Northgate to Georgetown, from Italian to Japanese, we have something for everyone.
Share, tweet, post, forward!
We need your help! Visit Lifelong's Facebook page and share the latest Dining Out for Life related post on your own wall. Create a Facebook event to host your own dinner party at a Dining Out for Life participating restaurant. Make sure you use #DOFLSeattle in all your posts leading up to and during April 27.
Are you a restaurant interested in participating in 2017?
Participating in Dining Out is more than just good philanthropy; it's good business. Lifelong is committed to hosting a successful event, helping fill your restaurant with loyal diners and creating a mutually beneficial partnership.
Your commitment is simply to donate a portion of your proceeds from Dining Out for Life to Lifelong. We take care of the rest. We will implement an advertising and publicity campaign and provide your business with promo materials. We also work to provide a Dining Out for Life Ambassador to be at your restaurant during the event to answer patron questions about Dining Out for Life and Lifelong. Sign-up online here.
Eat your generous heart out. Thank you for your support!