Migrating Meals: A Taste of Trinidad with Pam Jacob
October 25, 2017 @ 6:00 pm

-

8:00 pm

$26.40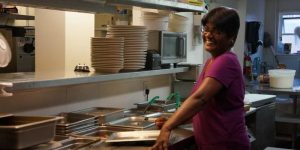 Join us for September's Migrating Meals at Pam's Kitchen in Wallingford! We will be sharing an assortment of dishes from Trinidad, learning about Trinidadian food and culture, engaging in discussion, and hearing Pam's story of how this treasured Caribbean restaurant came to be. We look forward to dining with you!
Tickets are $26.40 (includes tax and tip)
Ticket price includes an appetizer, entree (veggie or meat), and a side
Here is an excerpt from Pam's Kitchen's website:
The story of Pam's Kitchen starts over 20 years ago, when the owner and chef Pam Jacob was still living in her native country of Trinidad. She had a small establishment there, called Pam's Snack Shack, but she always dreamed of coming to the Pacific Northwest to open a full restaurant.
When Pam moved to Seattle around 1994, she realized her dream, slowly but surely. While paying the bills with her housekeeping work, Jacob began doing some catering for her housecleaning clients and their friends. They loved her roti! So, she decided to take her cooking to the next level, with a booth at a street fair in the University District. They had a huge line of waiting customers!
One thing led to another, and in 2006, Pam Jacob opened her first Pam's Kitchen in the University District near the University Heights Center on University Way.
Everybody needed an education on what Trinidadian food was, how to eat roti, and so on, so Pam and her family had a lot of work to do! Our team was happy to transform our restaurant into a cozy, lively place, bringing our vibe and spirit to the neighborhood.
In late 2013, we opened our second location of Pam's Kitchen, offering lunch service to the South Lake Union neighborhood and surrounding area!
Pam's historic location in the University District moved to Wallingford in 2015 due to the demolition of our building. We are glad to be in our new home in Wallingford as we get to know our neighbors and develop our space to offer our unique food, culture and spirit to the area.
We look forward to dining with you!