SeaTac Course in English 
English: Calling all entrepreneurs and aspiring entrepreneurs in South King County! Do you have a business idea you'd like to pursue, or an existing business you'd like to grow? Register for the Ventures Orientation in SeaTac on Monday, September 11! Ventures and the Food Innovation Network are partnering to offer the first-ever business training in SeaTac. You'll get an opportunity to learn about our program for small business owners with limited resources and apply for our 8-week Business Development Training course. The orientation is free and will be at Lutheran Community Services NW in SeaTac: 4040 S 188th St., SeaTac, 98188. Registration is required to attend, so click here to register now or call 206-352-1945 to register via phone or for more information.
Orientation Date*: Monday September 11, 2017 5:30-9:00 pm *Attendance required to apply for the Business Development Training.Class Dates & Time: Monday nights 6-9 pm, September 18-November 13Location: 2100 24th Ave S, Seattle, 98144How to register: Online HERE or call 206-352-1945 (se habla español)Cost: Orientation is FREE! If accepted, $50, $100, or $200 class fee based on income. **Full scholarships available upon request so cost is not a barrier to attend**
Attention community members interested in starting a food business working at a food business! FIN is kicking off a series of local food business tours. Participants will get an inside look at local businesses and commercial spaces, our first being the Renton Farmers Market.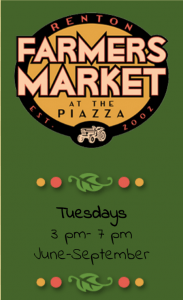 Want to sell at a farmer's market? Join us for a FREE tour of the Renton Farmers Market. Key vendors will share stories and advice before a market tour. Tour guests will be have time to explore the market and debrief with the tour guide while sharing snacks.Space is limited, so reserve a spot today:
Send a text to 206-370-0045
Include the word "RENTON" and your name.