Attention community members interested in starting a food business working at a food business!
FIN is kicking off a series of local food business tours. Participants will get an inside look at local businesses and commercial spaces, our first being the Renton Farmers Market.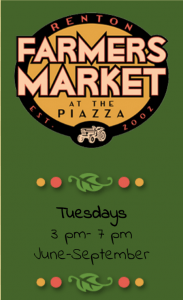 Want to sell at a farmer's market?
Join us for a FREE tour of the Renton Farmers Market. Key vendors will share stories and advice before a market tour. Tour guests will be have time to explore the market and debrief with the tour guide while sharing snacks.
Space is limited, so reserve a spot today:
Send a text to 206-370-0045
Include the word "RENTON" and your name.