"I am very lucky -- my happiness knows no bounds," Krishna Biswa says while walking among rows of healthy lettuce, robust basil, and vibrant beets. His close-knit family and thriving garden plots are among his greatest joys.
"I have a beautiful granddaughter who's 14 months old," he continues, beaming. "She visits the garden sometimes, and she loves snap peas and cucumbers."
Krishna's parents, siblings, and children also enjoy the fresh, tasty produce he grows at Namaste Community Garden and Namuna Garden in Tukwila. For their family, growing and sharing food is a beloved tradition.
Krishna recalls his parents producing corn, greens, rice, cardamom, and oranges in Bhutan, their country of origin. After resettling in South King County as refugees in 2010, they've have been able to garden again thanks to the IRC New Roots program.
New Roots builds on the agricultural experience of many refugee and immigrant families by providing access to land, materials, and education for program participants to grow healthy food. Through a partnership with landowner St. Thomas Catholic Church, IRC began connecting resettled refugees with Namaste Community Garden plots in 2010.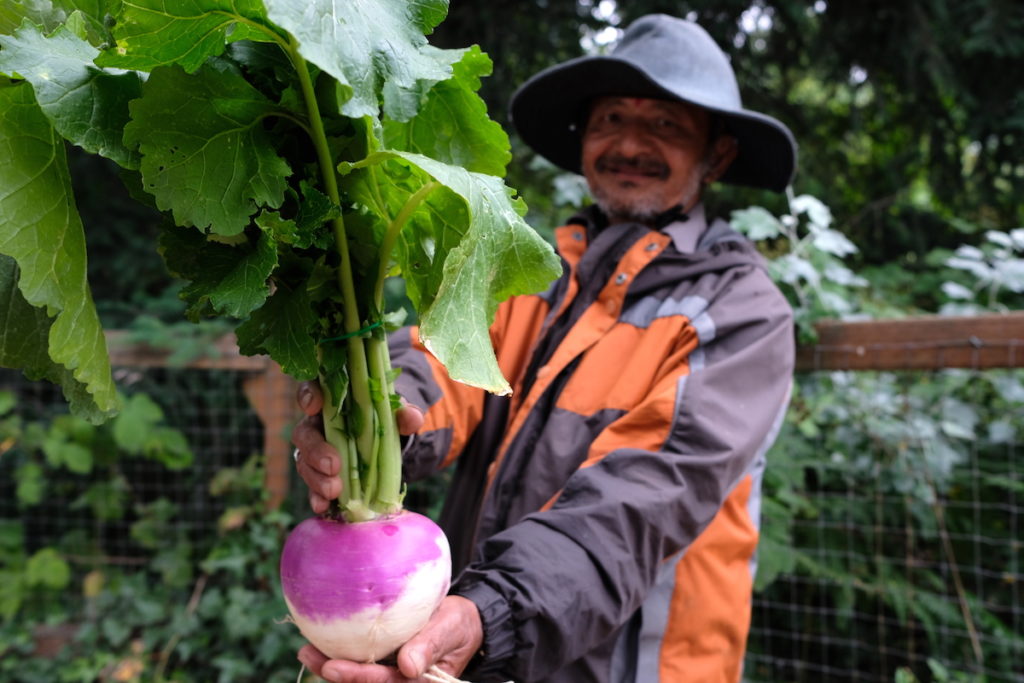 "We are very lucky to have this garden because we are able to practice our gardening traditions, and the produce we grow here is very good," says Krishna, who started tending a plot at Namaste Community Garden in 2012. "It's supporting our family and reducing grocery expenses."
Krishna's parents and brother also tend plots at Namaste Community Garden, and they love exchanging advice for growing organic food with their fellow gardeners, families from Bhutan and Myanmar.
"I have a lot of friends in Namaste Garden," Krishna says. "They have their own way of growing, and sometimes I learn from them, and sometimes they learn from us."
Namuna, an exemplary garden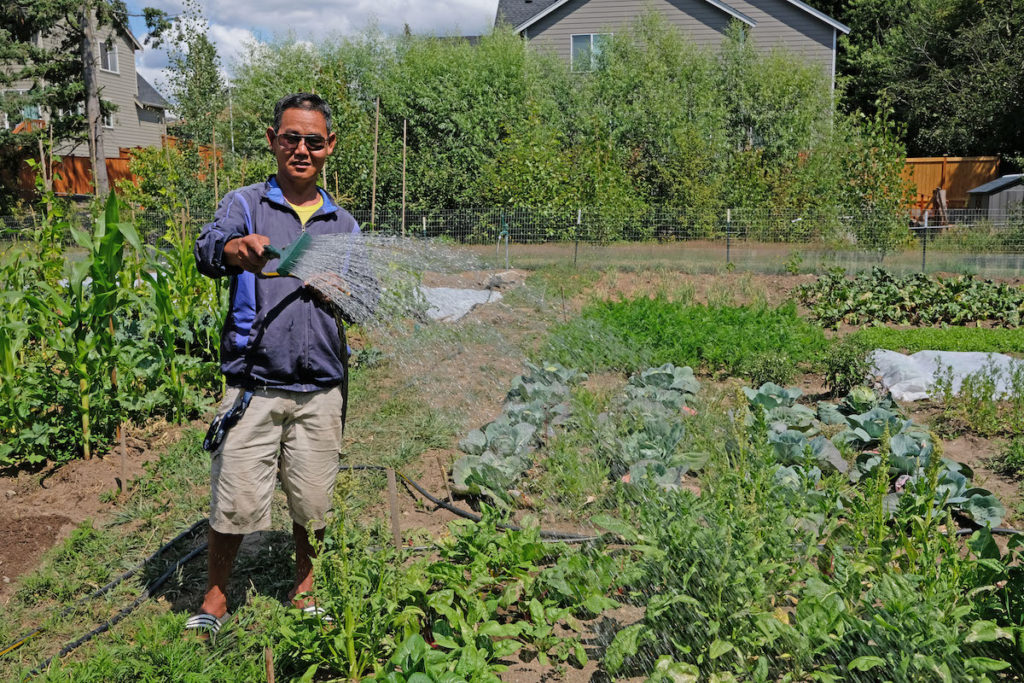 Food Innovation Network partnered with New Roots to start selling Namaste Garden's produce to community members at Tukwila Village in 2018. That summer, two customers mentioned to New Roots staff member Kamal Adhikari that they had a big backyard in Tukwila that they'd happily make available to growers. Within months, Krishna and four other gardeners were transforming the expansive lawn into a flourishing agricultural space.
They called it Namuna Garden, meaning Example Garden, Kamal explained. It's an example both of community members sharing their land with growers, and of the excellent produce that can be grown in such spaces.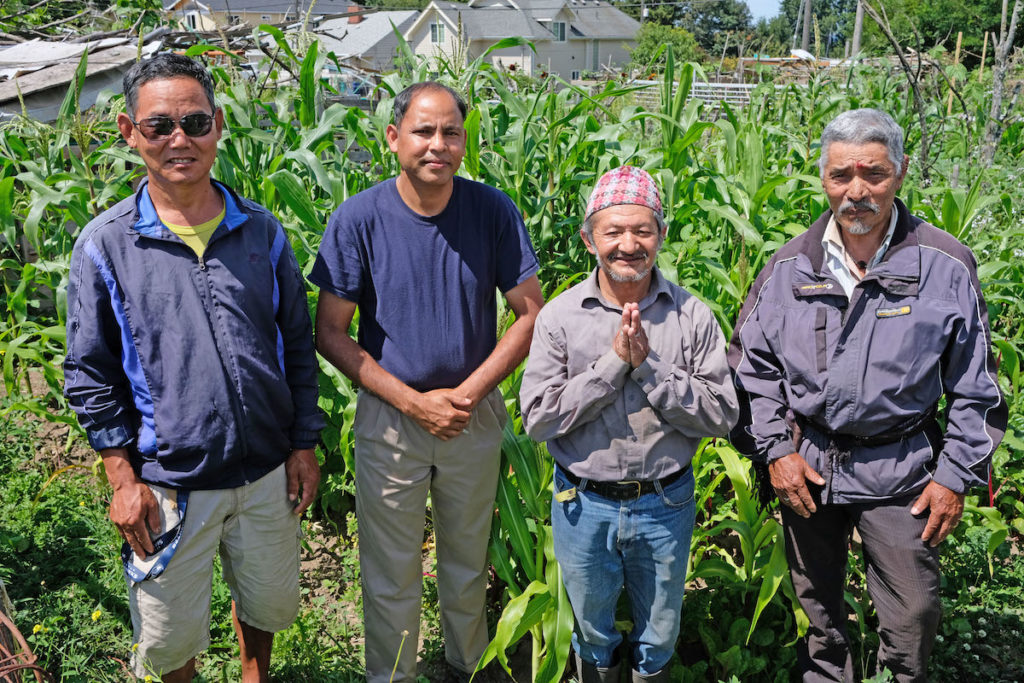 The five growers who tend Namuna Garden are all graduates of New Roots' Micro-Producer Academy, an eight-week program that teaches budgeting, crop planning, irrigation, and other essential skills. They're putting their knowledge to work this season at the new Tukwila Village Farmers Market, where they operate booths to sell produce from both Namaste Community Garden and Namuna Garden.
Their produce has been so popular that they sometimes sell out of items within an hour of the market opening. No problem – a grower will head a few blocks to the gardens to harvest more. Food doesn't get much fresher or more local than that.
"We love bringing good seasonal vegetables to the farmers market," Krishna says. "We're happy to see a lot of diverse people there, and to meet customers."
The gardeners hope that sharing their produce can help spread some of the happiness that they've enjoyed while growing it.
Meet the growers
Namaste Community Garden and Namuna Garden growers sell produce at Tukwila Village Farmers Market on Wednesdays from 4-7 p.m. Come out to meet them, along with Wakulima USA gardeners and other local food producers. And keep an eye on our website for more spotlights on local growers!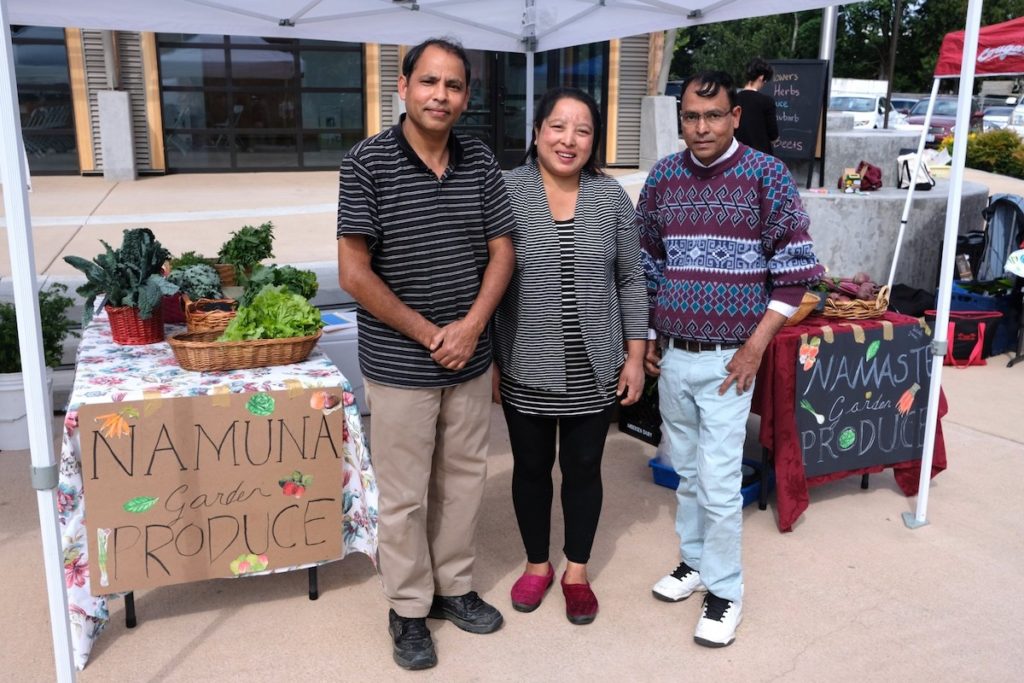 David Bulindah is one of the local food growers you'll meet at the new Tukwila Village Farmers Market. Together with Dickson Macharia, he co-founded Wakulima USA, a nonprofit that helps immigrants connect with agricultural land and grow crops in South King County.
Wakulima is Swahili for farmers; the organization's name reflects their initial group of eight food growers who are immigrants from east and central Africa.
"We are trying to encourage our farming practices because many of us were farmers in our home countries," David said. "When we come here, it's something we find we can be able to do, and that we do out of passion."
Wakulima USA focuses on growing culturally relevant food – nutritious vegetables that David and Dickson grew up eating in Kenya. Some plants like amaranth and spiderplant are rare in the Seattle area, while others such as kale and collard greens are more common.
David takes inspiration from his mother, an urban farmer in Kenya's Rift Valley.
"We were too poor to own land, and we lived in the city. But my mother would go up on the side of the road and plant amaranth, corn, and other things. So we were able to survive and get something to eat," he said.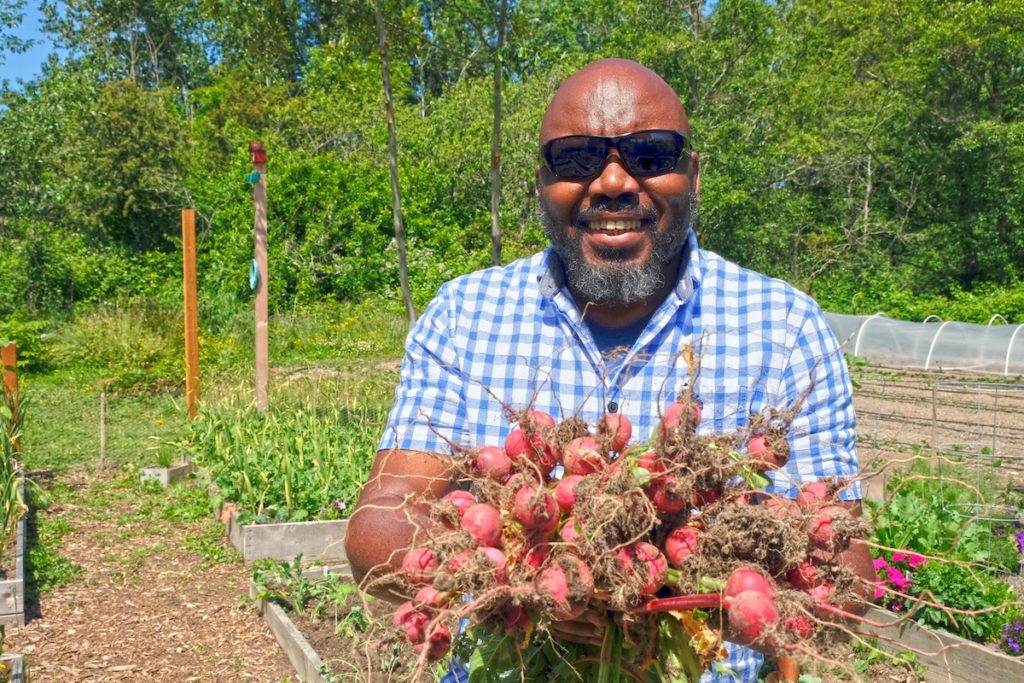 "It gives you a sense of hope"
Now a mental health therapist, David sees farming as a source of nourishment for not only the body, but also the mind.
"It's therapy for me," he laughed. "We put the seeds in the ground, and every day we have to water them, and we see how they're coming up. And then you wake up, you see a tomato there -- it gives you a sense of hope."
He loves to share the practice of gardening with others, including his children and nieces.
"I bring them here to see how to plant the crops -- because most kids don't understand where food comes from," he said.
David's wife, Irene, agrees that it's important to pass along farming knowledge to the next generation.
"People need to learn about farming. We kind of walked away from it, but there's now a big new push to know where this food is coming from. It's hard to know what's in it when it's done by somebody else, somewhere miles away," Irene said.
For Irene, the flavors of fresh produce are an added benefit: "There's a big difference when you grow your own food. You think it's a cliché, but the taste is different straight from the garden."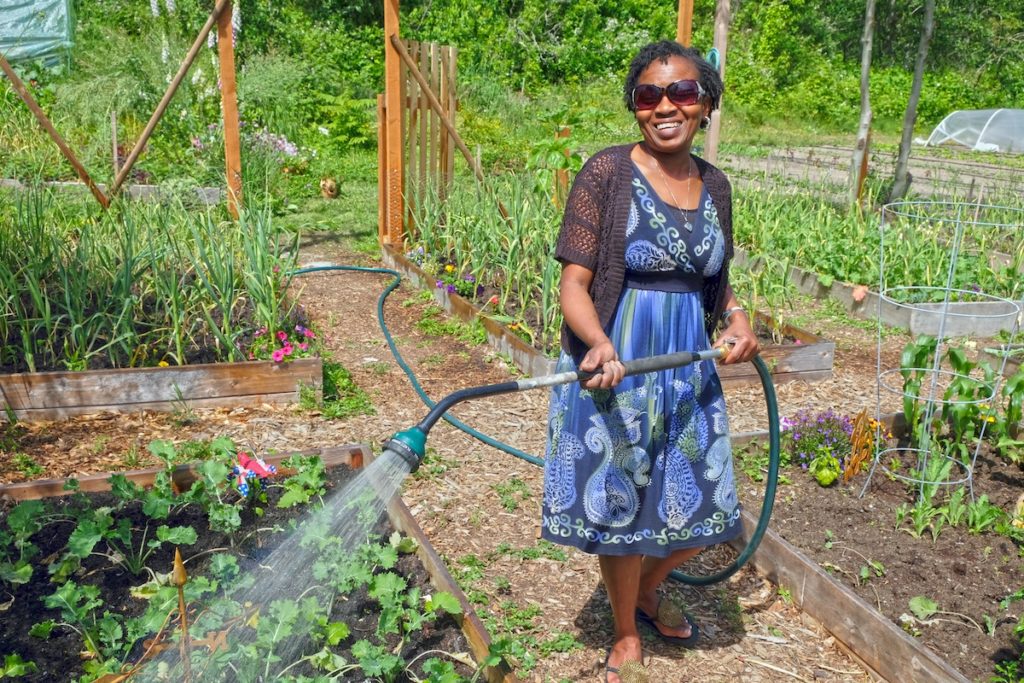 Finding space to grow
Locating agricultural land has been Wakulima USA's biggest challenge. They reached out to local organizations, and Highline Urban Agricultural Garden helped them connect with a plot at the City of Des Moines' Sonju Community Garden. Wakulima USA also works land in Kent thanks to World Relief Seattle.
Earlier this year, Wakulima partnered with Highline, King Conservation District, and FIN to present a workshop on farming in King County. Turnout was great, and more than 30 growers have asked Wakulima USA for support to start growing food in our region. The growers are on a waitlist as the organization works to locate more land.
One creative solution Wakulima USA came up with is collaborating with local property owners.
"We're trying to find senior citizens who have space on their property, who used to love gardening, and who can't do it anymore. We would go there and volunteer, and clean it up, and put in a small community garden," David said.
As Wakulima USA grows little by little, they have a grand vision for the future: a 20-acre farm with a research center where they would work with scientists to study the nutritional and medicinal values of crops like amaranth. They also envision an on-site restaurant that would give visitors a true farm-to-table experience.
For now, David and the other Wakulima USA farmers are excited to share their delicious, nutritious produce with community members at Tukwila Village Farmers Market.
Connect with Wakulima USA
Are you a property owner who's interested in working with Wakulima USA to build a community garden on your land? Are you looking for opportunities to get involved in community farming? Contact David and Dickson at wakulimausa@gmail.com.