At Keerai Farm in Enumclaw, Victor Anagli and Deepa Iyer are building on their families' farming and cultural traditions. Victor's family has been growing food for generations in his birthplace, Denu village in Ghana. Deepa's ancestors lived among rice fields in southern India, and her family has strong cooking traditions.
"I want to rescue my cultural traditions and those of my friends and collaborators," Deepa said. "We all have deep cultural traditions related to food and farming, yet in our industrial system, many of us lose those traditions in exchange for industrially produced food that often has negative impacts on the land, water, and the people who work to grow, process, and sell the food. Not to mention that our children become addicted to packaged and processed food, to eating on the run out of a paper bag or box, rather than having a way of life that allows us time to grow the food, harvest together, celebrate the bounty, give thanks together, share meals, and lift up our ancestors."
An engineer by training, Victor left his corporate job to get back to his agricultural roots. Deepa has worked as a naturalist and food systems educator, and is currently a program coordinator with IRC's New Roots program—FIN's partner in organizing Tukwila Village Farmers Market and Namaste Farm Stand. In addition to supporting the Namaste Garden and Namuna Garden growers who sell food at our markets, Deepa has also shared some of Keerai Farm's abundance at Tukwila Village Farmers Market.
Deepa and Victor bought their 21-acre property in 2018, and they're already growing some of the same foods their ancestors ate, such as roselle, bottle gourds, peanuts, and okra. The couple take produce requests from community members, including Deepa's mother's Indian community and Tukwila Village Farmers Market customers. They're experimenting with small greenhouses and organic agricultural techniques as they learn how to grow these culturally significant foods in the Pacific Northwest's climate.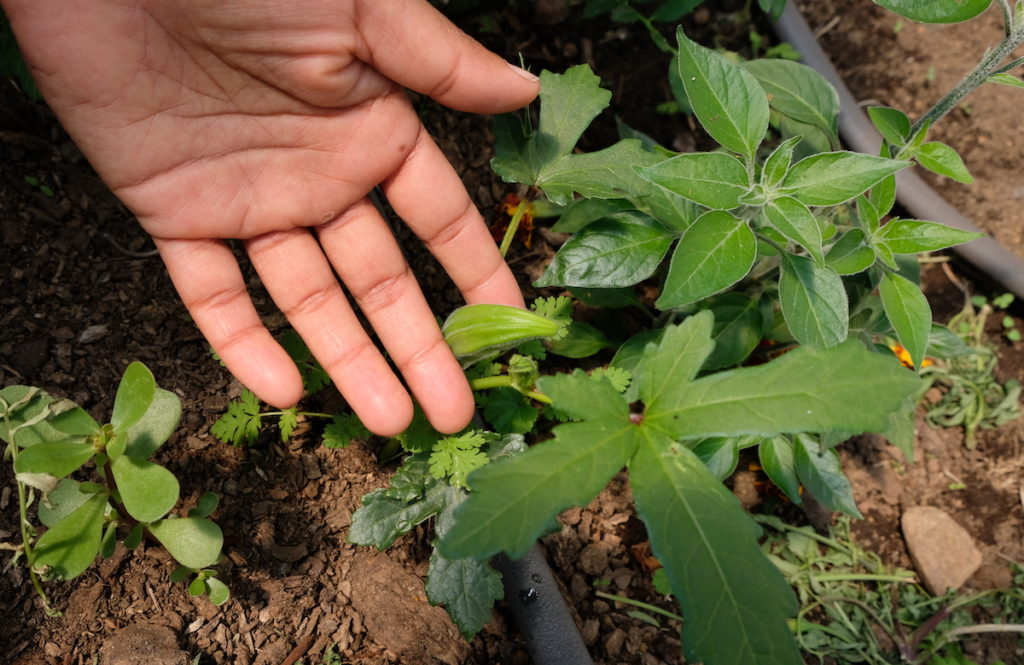 Growing community
"Keerai Farm is our dream: living life close to the land, connected to the Earth, caring for her each day we wake up, seeing our children run free and breathing fresh air, eating real food coming straight from the soil and grown with love and care," Deepa said.
Deepa and Victor's children are already well acquainted with farm life. Their 15-year-old son, Devon, loves tinkering with machinery, and helped install their irrigation system. He's also creative in the kitchen, and surprised their family with tasty popsicles made from homegrown berries he'd collected. Their 3-year-old daughter, Samika, has learned to identify many of the plants they grow, and loves riding on their tractor as they cut grass.
Victor and Deepa want to share the experience of farming with other families–particularly those who have a hard time accessing land because of displacement or economic reasons, or because they don't feel socially or physically safe living in a rural area.
"This is why we focus our work on connecting with BIPOC (Black-indigenous-people of color) families—because in King County there is diversity, but many folks of color do not own land and/or do not feel comfortable or have a space that feels welcoming to come and connect to the land," Deepa said. "We hear this from so many people who come to visit: 'We would love to live this way but we are not comfortable.' Well, if we could live in community, then we could keep each other safe and inspired."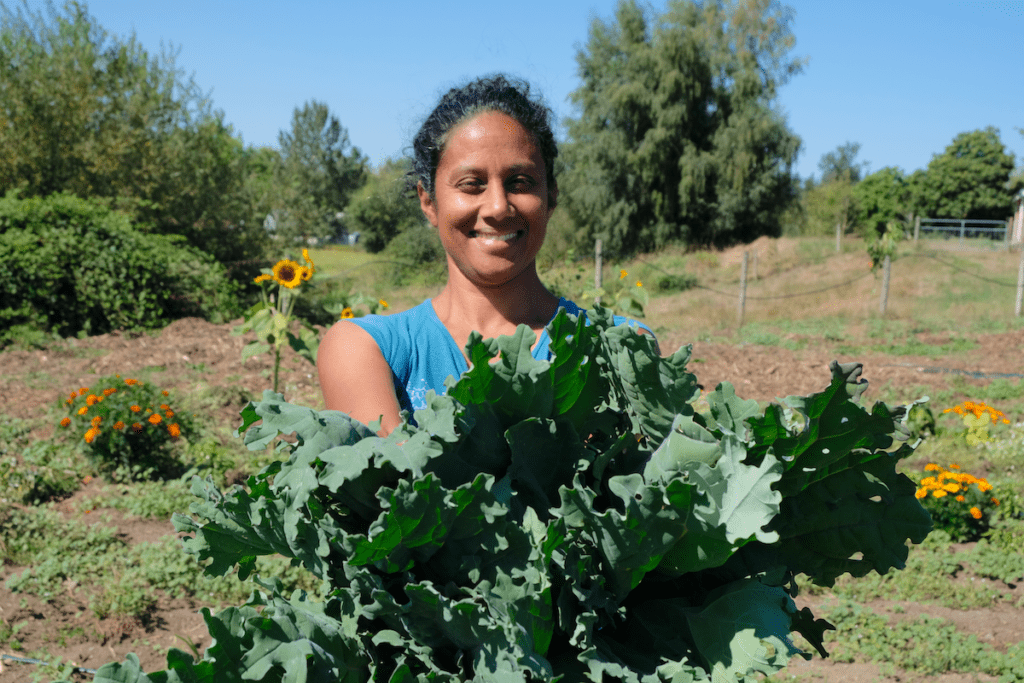 Deepa and Victor have been overwhelmed by positive feedback from community members who have visited Keerai Farm. Some have already been inspired to change their eating habits.
"Every time people come here, they taste the produce and say that it tastes different from the stores. That is a hell of a testament," Victor said. "A group came to visit last week and harvested produce and cooked a meal in our kitchen, and then told us that that experience made them want to eat more fruits and vegetables and cook more for themselves."
Victor loves sharing not only fresh food, but also knowledge about organic farming that has been passed to him down through generations.
"I believe growing food authentically without chemical aid is the way to do it. Food is medicine. Food is a healer. If you keep pumping it with fertilizers, that defeats the purpose," Victor said. "It is important that we all know this, for this knowledge to be passed down—the actual doing part, not just reading a book. You have to go through the process with somebody. It is vitally important to share that knowledge."
In addition to inviting community to come farm, Victor and Deepa are organizing events on their property. In June, 90 people spent a weekend practicing capoeira, camping, and enjoying the land at the "Grounded in Freedom" event that Keerai Farm hosted. Deepa and Victor plan to hold more events combining food, community, and healing arts such as yoga.
"Keerai Farm is a place of healing, a place where you are able to come and feel one with nature," Victor said. "My vision for the future: a lot of people, like-minded folks who believe in authentic food, building community, and just being here now, being present together."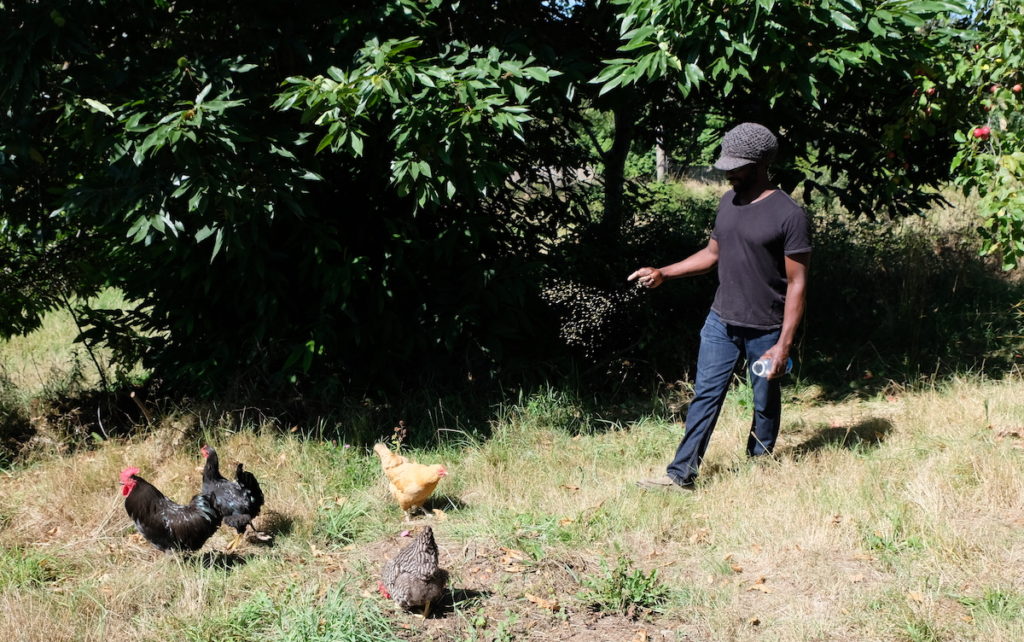 Help harvest at Keerai Farm
Deepa and Victor invite you to experience and help farm their land—and take fresh produce home. You can email Deepa at keeraifarm@gmail.com to set up a visit. It's harvest season—a great time to be on the farm!