"I am very lucky — my happiness knows no bounds," Krishna Biswa says while walking among rows of healthy lettuce, robust basil, and vibrant beets. His close-knit family and thriving garden plots are among his greatest joys.
"I have a beautiful granddaughter who's 14 months old," he continues, beaming. "She visits the garden sometimes, and she loves snap peas and cucumbers."
Krishna's parents, siblings, and children also enjoy the fresh, tasty produce he grows at Namaste Community Garden and Namuna Garden in Tukwila. For their family, growing and sharing food is a beloved tradition.
Krishna recalls his parents producing corn, greens, rice, cardamom, and oranges in Bhutan, their country of origin. After resettling in South King County as refugees in 2010, they've have been able to garden again thanks to the IRC New Roots program.
New Roots builds on the agricultural experience of many refugee and immigrant families by providing access to land, materials, and education for program participants to grow healthy food. Through a partnership with landowner St. Thomas Catholic Church, IRC began connecting resettled refugees with Namaste Community Garden plots in 2010.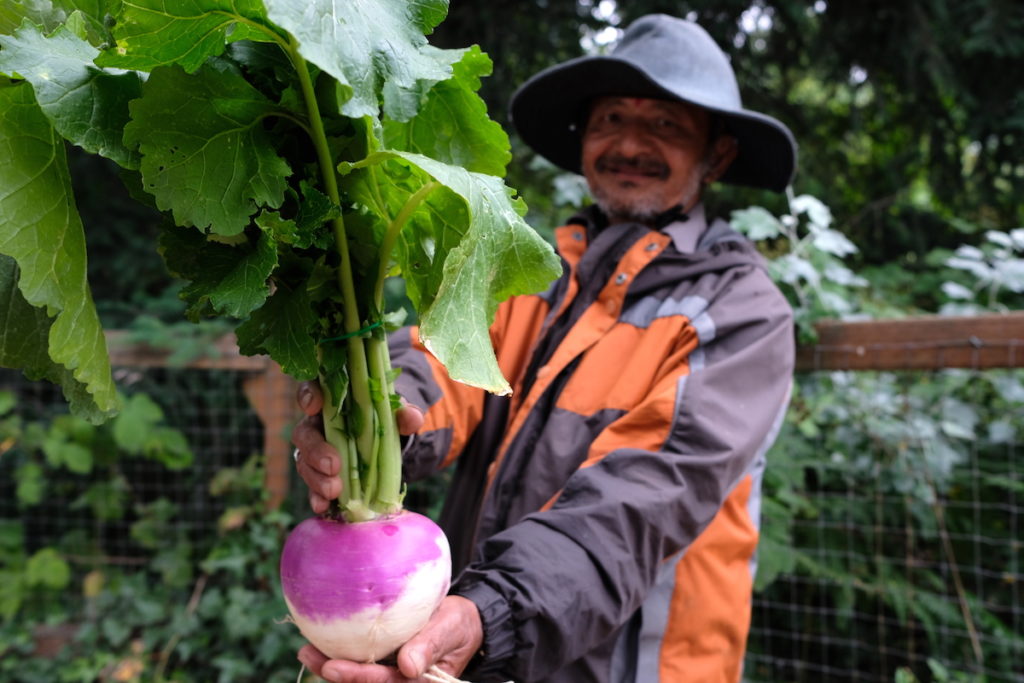 "We are very lucky to have this garden because we are able to practice our gardening traditions, and the produce we grow here is very good," says Krishna, who started tending a plot at Namaste Community Garden in 2012. "It's supporting our family and reducing grocery expenses."
Krishna's parents and brother also tend plots at Namaste Community Garden, and they love exchanging advice for growing organic food with their fellow gardeners, families from Bhutan and Myanmar.
"I have a lot of friends in Namaste Garden," Krishna says. "They have their own way of growing, and sometimes I learn from them, and sometimes they learn from us."
Namuna, an exemplary garden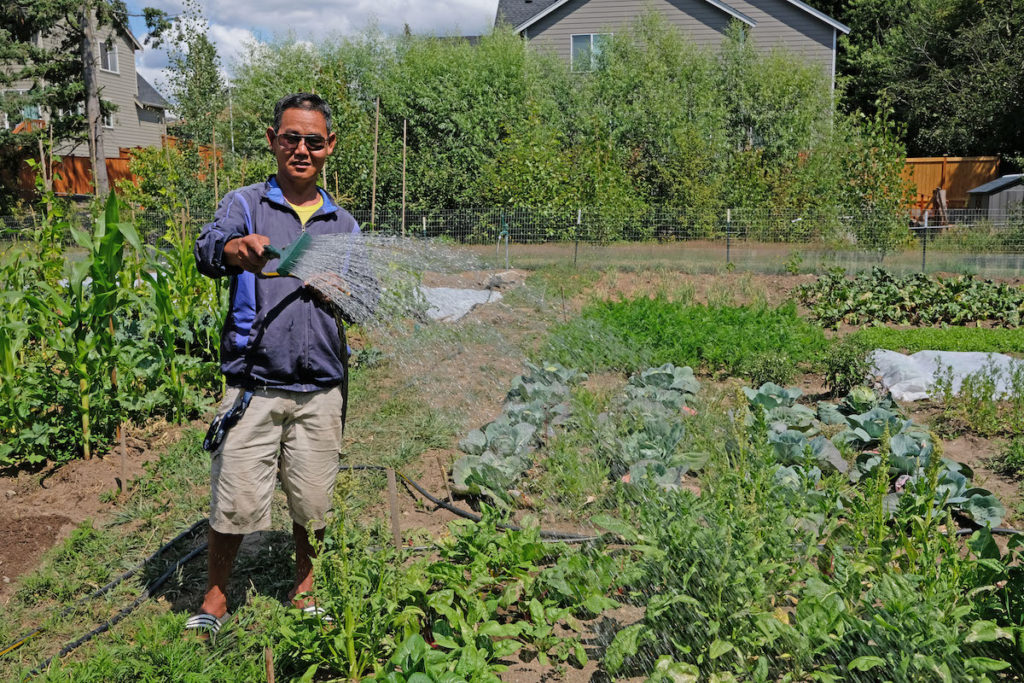 Food Innovation Network partnered with New Roots to start selling Namaste Garden's produce to community members at Tukwila Village in 2018. That summer, two customers mentioned to New Roots staff member Kamal Adhikari that they had a big backyard in Tukwila that they'd happily make available to growers. Within months, Krishna and four other gardeners were transforming the expansive lawn into a flourishing agricultural space.
They called it Namuna Garden, meaning Example Garden, Kamal explained. It's an example both of community members sharing their land with growers, and of the excellent produce that can be grown in such spaces.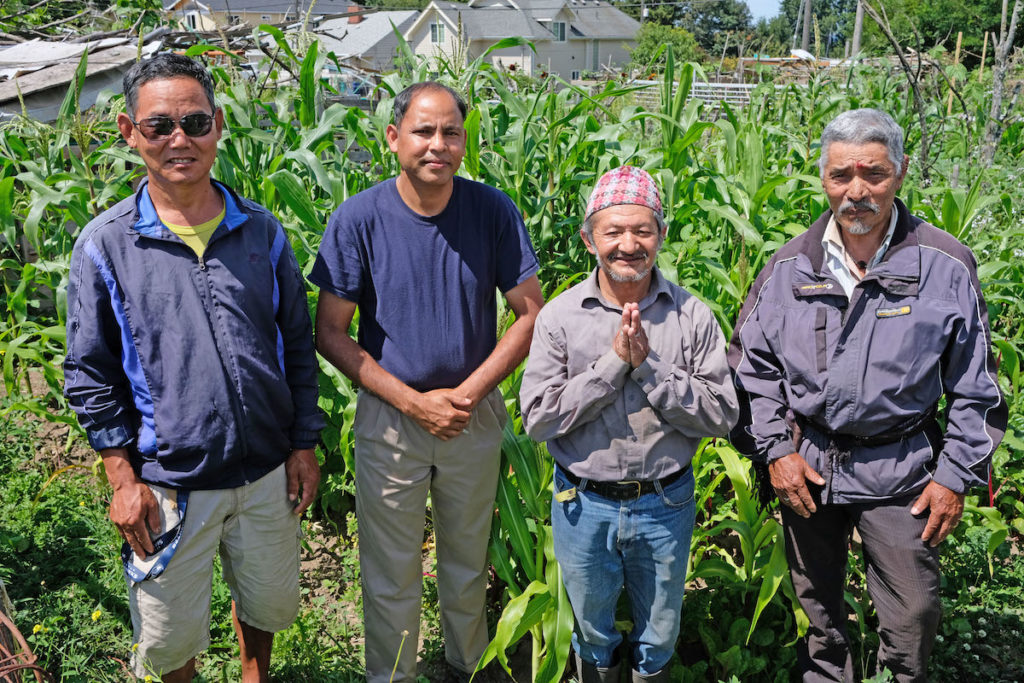 The five growers who tend Namuna Garden are all graduates of New Roots' Micro-Producer Academy, an eight-week program that teaches budgeting, crop planning, irrigation, and other essential skills. They're putting their knowledge to work this season at the new Tukwila Village Farmers Market, where they operate booths to sell produce from both Namaste Community Garden and Namuna Garden.
Their produce has been so popular that they sometimes sell out of items within an hour of the market opening. No problem – a grower will head a few blocks to the gardens to harvest more. Food doesn't get much fresher or more local than that.
"We love bringing good seasonal vegetables to the farmers market," Krishna says. "We're happy to see a lot of diverse people there, and to meet customers."
The gardeners hope that sharing their produce can help spread some of the happiness that they've enjoyed while growing it.
Meet the growers
Namaste Community Garden and Namuna Garden growers sell produce at Tukwila Village Farmers Market on Wednesdays from 4-7 p.m. Come out to meet them, along with Wakulima USA gardeners and other local food producers. And keep an eye on our website for more spotlights on local growers!