As an acute care nurse, Laura Vogel helps patients who have heart and kidney diseases—conditions she connects to poor diets.
"I see the effects of processed food every day. And it's not just diabetes—it's the inflammatory state that food can potentially put you in. You're just so much more susceptible to disease, and illness, and poor healing if you do get sick," she said.
Laura believes that eating a diversity of fresh foods can help prevent disease. She's working to spread the word, and also to share her homegrown produce with her Tukwila neighbors.
"I want to help the community get healthy and not have to come see me at Harborview!" she said. "Food should be our primary medicine—not pharmaceuticals."
A thriving home garden designed with permaculture in mind
You may have met Laura at Tukwila Village Farmers Market this season. When her schedule allowed, she set up the Laura's Garden farm stand to sell fresh vegetables, fruits, and herbs grown in her yard just a few blocks from the market.
Embracing permaculture—an agricultural design system modeled on nature—has enabled Laura to cultivate an abundance of produce on a residential property.
"It's about permanent agriculture, and growing food systems that are sustainable and economical, and better for the environment," Laura said.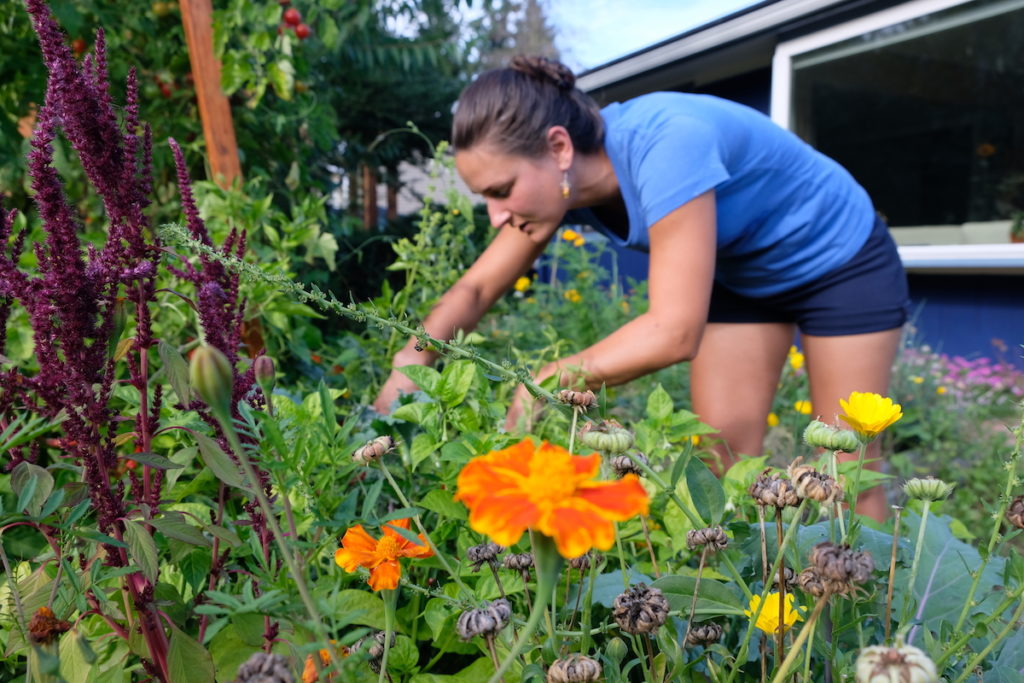 Permaculture rejects monocrops, the modern practice of growing large amounts of a single plant. Natural food systems are diverse, and so Laura's garden is incredibly varied. Among her edible plants are squash, tomato, asparagus, tomatillo, beans, peppers, chard, gherkins, fennel, sorrel, ginger, tea, hops, tulsi, turmeric, bay leaf, parsley, thyme, oregano, and garlic. She also grows almond, fig, apple, pear, peach, and plum trees, as well as flowers that support pollinators.
It's easy to spot other elements of permaculture on Laura's property: a rainwater irrigation system keeps her plants healthy without using city water; wood chip mulch reduces evaporation, suppresses weeds, and conditions soil.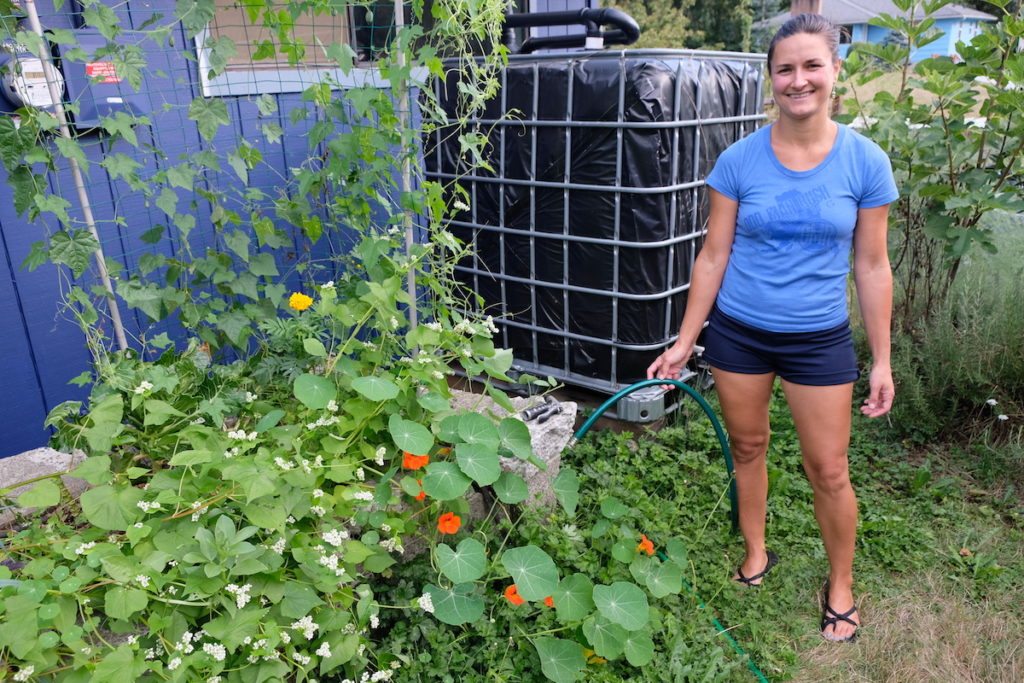 Laura is completing a certificate in permaculture design, and hopes her garden can one day become a permaculture demonstration site to provide inspiration to other gardeners.
"You can do a lot with a little, and I want to show that to other people, so they can also grow a lot of food even in a little space," she said. "And if you do grow more than you can eat—which happens very quickly—then you can share it."
Get involved
Participating in the farmers market this year, Laura realized that she didn't have enough spare time to regularly harvest and prepare her produce for sale. Still, she'd love to share her food with people who will enjoy and benefit from it. Now she is looking for a community member who'd like to harvest her produce and share it with the community.
"It would be a dream come true if someone came to harvest weekly, and either donated to the food bank or set up their own stand," she said. Laura envisions a learning opportunity for someone interested in permaculture, and a potential income opportunity if that person wanted to sell the food locally.
Would you like to partner with Laura to share her food with our community? Get in touch with her at vogel.laura.k@gmail.com.