South King County BDT's-Outreach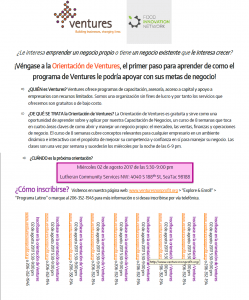 – SeaTac Course in Spanish
Orientation Date*: Wednesday August 02, 2017 5:30-9:00 pm
*Attendance required to apply for the Business Development Training.
Class Dates & Time: Wednesday nights 6-9 pm, August 9-October 4
Spanish: ¿Usted vive al sur del condado de King y tiene una idea de negocio que le gustaría realizar? ¿Tiene un negocio establecido que quisiera crecer? ¡Véngase a la orientación gratuita de Ventures! Este verano 2017, Ventures y el Food Innovation Network ofrecerán esta oportunidad para empresarios en ¡SeaTac, WA! En una sola sesión, usted aprenderá de cómo el programa de Ventures le podría ayudar a crecer su negocio o su idea de negocio y tendrán la oportunidad de aplicar por nuestro curso inicial para empresarios de pequeños negocios.
La orientación es el miércoles 02 de agosto 2017 de las 5:30-9:00 pm, y por primera vez la vamos a ofrecer ¡en SeaTac! La dirección de la orientación: 4040 S 188th St, SeaTac, WA 98188. Espacio es limitado y hay que inscribirse. ¡Más información e inscripción AQUÍ! O también se puede marcar al 206-352-1945 para inscribirse.
Location: Lutheran Community Services NW: 4040 188th St., SeaTac, WA 98188
How to register: Online HERE or call 206-352-1945 (se habla español)
Cost: Orientation is FREE! If accepted, $50, $100, or $200 class fee based on income