We're excited to introduce you to the businesses that offer cuisines from around the world at Spice Bridge, our new food hall! Today we'd like for you to meet the owner of Jazze's.
Since she was a young girl growing up in Afghanistan, Nasrin Noori loved being in the kitchen, where she would challenge herself to craft delicious meals from limited ingredients. Nasrin moved to the U.S. with her family at age 11, and by the time she was a teenager, relatives and friends knew how creative she was in the kitchen. They enlisted her help cooking for big events, and Nasrin was also responsible for preparing dinners for her family of 10.
In her late teens, Nasrin became interested in nutrition, and started learning about the U.S. food system and the benefits of organic foods. She got certified as a health coach, and eventually opened Jazze's to offer healthy Afghan fusion food prepared with organic, local ingredients. Her menu caters to a variety of dietary needs and preferences, and includes paleo, vegan, and gluten-free options.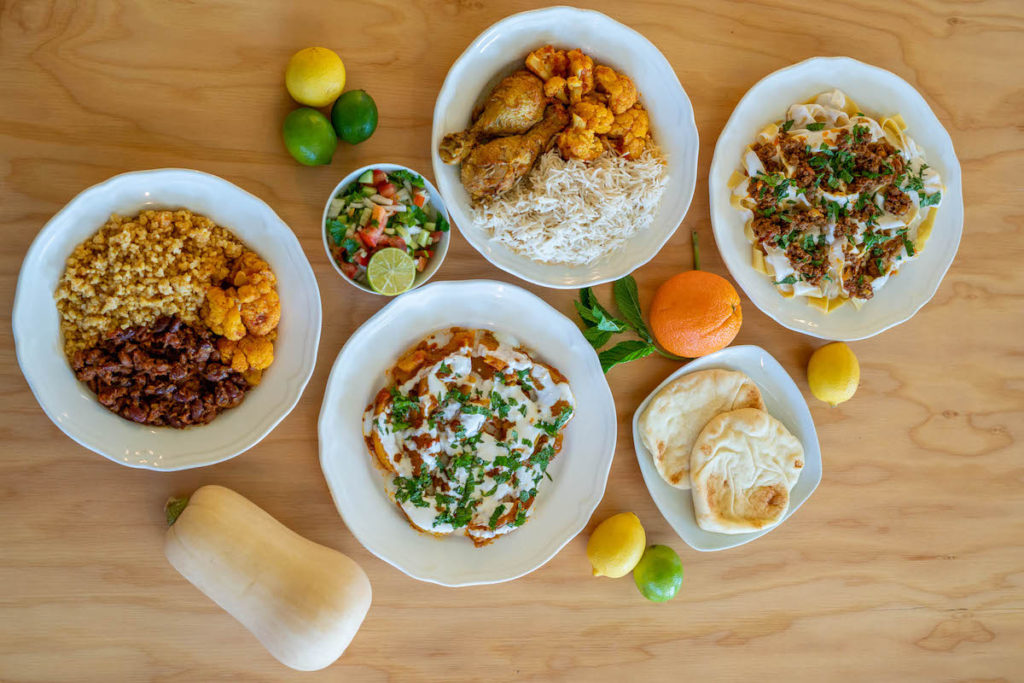 Read our Q&A with Nasrin to learn about her seasonal menu, how she balances raising four children with starting a new business, and her dreams for Jazze's.
How did you choose "Jazze's" for your business name?
Picking the name for my business was probably the easiest part of becoming an entrepreneur. My children are my number one inspiration for most things that I do. I'm a blessed mother to four incredible little people. My oldest son's initials are J.A., my second son's is Z., my daughter's is also Z., and my youngest son's is E. All their initials combined creates Jazze's.
Can you describe your cultural heritage and how it influences Jazze's cuisine? What elements of Afghan cuisine are incorporated into your menu?
I would say that my cultural heritage is Muslim-Afghan-American. The biggest part of my Afghan roots is the food. Afghan food has been a central part of my upbringing regardless of where we've lived—the food was a consistent part of my life. We moved to the States before my 12th birthday. I've lived more than half my life in the States, but my connection to Afghan food is very much a big part of my life still.
When I look at my children, their only connection to their Afghan side is the food and hospitality of Afghan culture. Food is a way that my children are learning about my upbringing and my childhood, and they compare it to that of their father, who's African-American. The kitchen is a big part of our family's connection; both my husband and I are somewhat foodies, and we are very much health-conscious individuals. We care about what we put in our body and what we bring in our home to feed our family, and this same care goes into what we offer at Jazze's.
A lot of different elements of Afghan cuisine are incorporated at Jazze's, but one of the most important elements for me is offering a seasonal menu. This is how Afghans traditionally prepared meals and dishes—based on what was available during that season. For the past 20 years, I've been learning about health and nutrition and how it impacts your mental and physical wellbeing, and as a certified health coach I understand the importance of eating clean, fresh, and seasonal.
Please describe a couple of the dishes you offer at Spice Bridge.
Kabili Pilau is probably one of the best known Afghan dishes. Some may even say it's the national dish of Afghanistan. It's long grain rice served with lamb or chicken and topped with carrots, raisins, and cardamom spice. I jazz this dish up a bit by adding almonds, pistachios, cranberries, and fresh orange zest. It's been a favorite in my home for many years, especially in the fall months with all the beautiful fall colors topped on the lamb and rice. It's been a tradition at our Thanksgiving dinner.
Burani Kadu is squash with yogurt. This is a very much a seasonal dish, as are most Afghan dishes. This dish can be made with any variety of squash. The squash is cooked in a delicious onion, garlic, and tomato sauce and topped with a garlic yogurt sauce, garnished with mint. Burani can be served with warm bread or rice.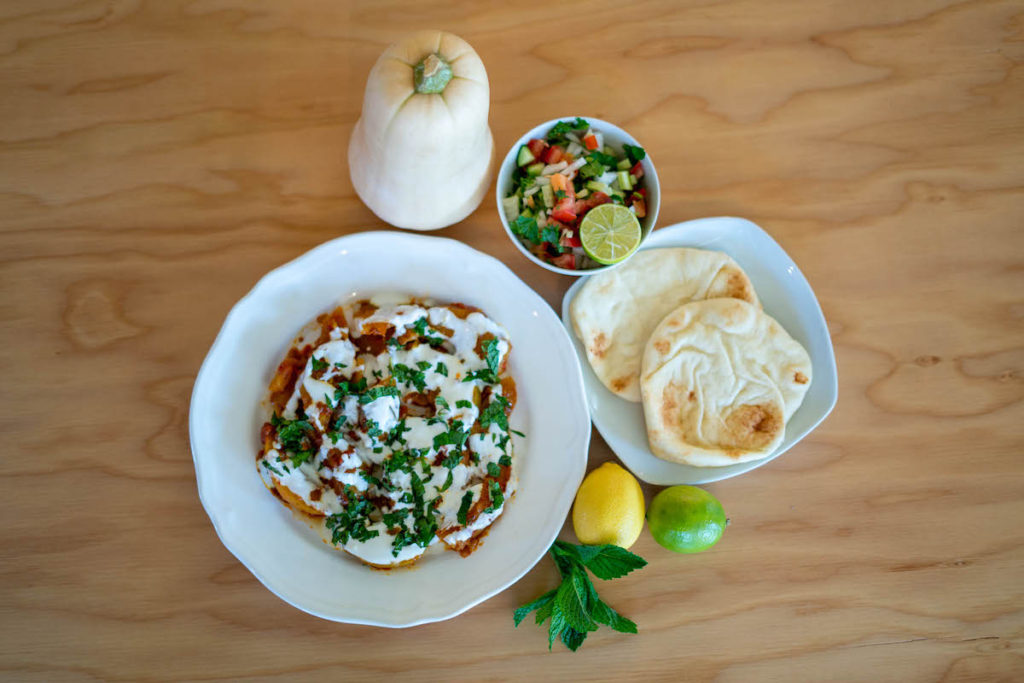 What challenges have you encountered trying to establish your business? How have you overcome those challenges?
I would say enough time, enough finances, not having any prior knowledge of running a business and an up-to-date knowledge of technology are a few of the challenges. I'm not sure if I have overcome any of them completely—it's work in progress and a lot of trial and error. I think that in today's society, time is a constant balancing act, especially when you are a parent. For the rest of the challenges I'm incredibly blessed to have FIN on my side. The amazing individuals at FIN, who all go above and beyond their job titles and wear multiple hats to help me achieve my goals, and dreams of being a successful entrepreneur.
What is your dream for your business?
I have a lot of big dreams for Jazze's. I am very hopeful despite the pandemic; I am hoping that things will go back to normal. I want Jazze's to be a place where people can come and feel at home and experience the Afghan hospitality and enjoy clean nutritious meals with their families and feel confident about what they're eating. I'm envisioning Jazze's having a formal dining area upstairs, and the downstairs is more of a laidback cafe with local artists performing, poetry slam nights, speakers on various topics—so not only are you filling your bellies with awesome food, but you're fulfilling your soul with knowledge and inspiration.
---
Visit Spice Bridge
Come by Spice Bridge to order food from Jazze's and other rotating vendors. We have takeout and outdoor dining available, and we're also working on delivery options—stay tuned!
Jazze's is open at Spice Bridge on Thursdays, Fridays, and Saturdays from 11 a.m. to 8 p.m.
Contact Jazze's