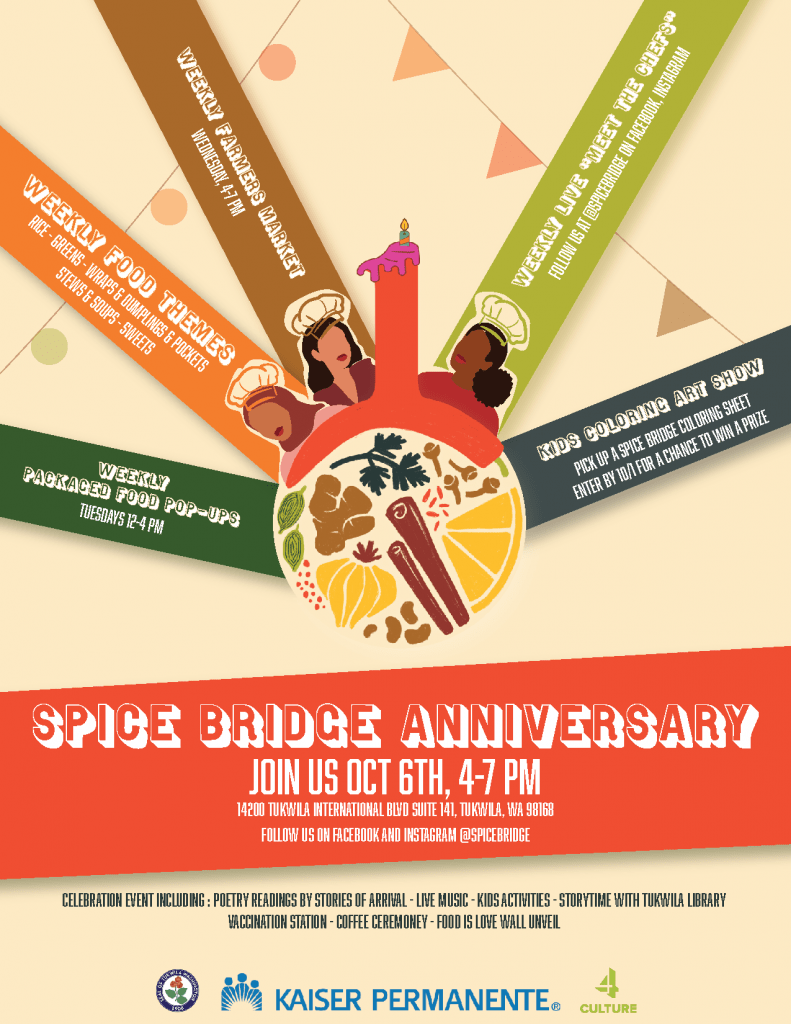 Spice Bridge has opened and thrived in a time of uncertainty due to the warm support from our community. We greatly appreciate your dedication and support in helping make this a community space for aspiring women of color, immigrant, and refugee chefs in their quest for building successful food businesses.

We are so proud of the chefs at Spice Bridge! Their entrepreneurial spirit, determination and hard work has brought in a successful first year during the harshest of times for starting a business.

Please celebrate with us through a month of festivities including weekly:
Packaged food pop-ups: Stop by Spice Bridge and stock up on spice mixes, sauces, meal kits and snacks from Afella Jollof Catering, Jazze's, Moyo Kitchen, Naija Buka, Taste of Congo, Seatango, Wengay's Kitchen and WUHA. Wednesday 9/8 12-8pm and every Tuesday, 12-4pm.
Meet the Chefs: we are hosting a weekly Meet the Chefs live on Facebook where we will take you behind the scenes in our kitchen! Explore little secrets about their dishes, learn about their hobbies and interests, and go on a journey around the world to discover the culinary customs of different food cultures.
(We will be taking questions from the viewers!)
Here is the full lineup and the dates (3pm Live):
~ Thur 9/9 – Theary Cambodian Foods and Afella Jollof Catering
~ Wed 9/15 – Monique's Hot Kitchen and WUHA
~ Tue 9/21 – Taste of Congo and Wengay's Kitchen
~ Fri 10/1 – Moyo Kitchen and Jazze's
Food themes– our spin of Iron Chef includes highlighting a common dish or ingredient all Spice Bridge vendors cook up. Stop by for a global taste of a common dish!
Food is Love coloring fun for kids! Download here or stop by for a coloring sheet that we will display on the Spice Bridge walls. Return by 10/1 to enter a raffle contest!
And, then join us Wednesday, October 6, 4-7pm! Event Link https://bit.ly/2XKms8q
We invite you to our anniversary party that will include honoring and celebrating the rich cultural traditions of our community. We hope to see you there!