As challenging as 2021 was, we celebrated many bright spots, such as the one-year anniversary of Spice Bridge, home to our Food Business Incubator program. We marked the occasion by welcoming more than 300 community supporters, partners, and friends to join us in honoring and celebrating the extraordinary program participants. In addition, 2021 also saw our first businesses graduate from the incubator program: Seatango and Naija Buka!
Naija Buka's products can be found online and at PCC Markets, and Seatango has opened a bakery in Lake City.
Thanks to the generosity of our many supporters and sponsors, we were able to close our capital campaign.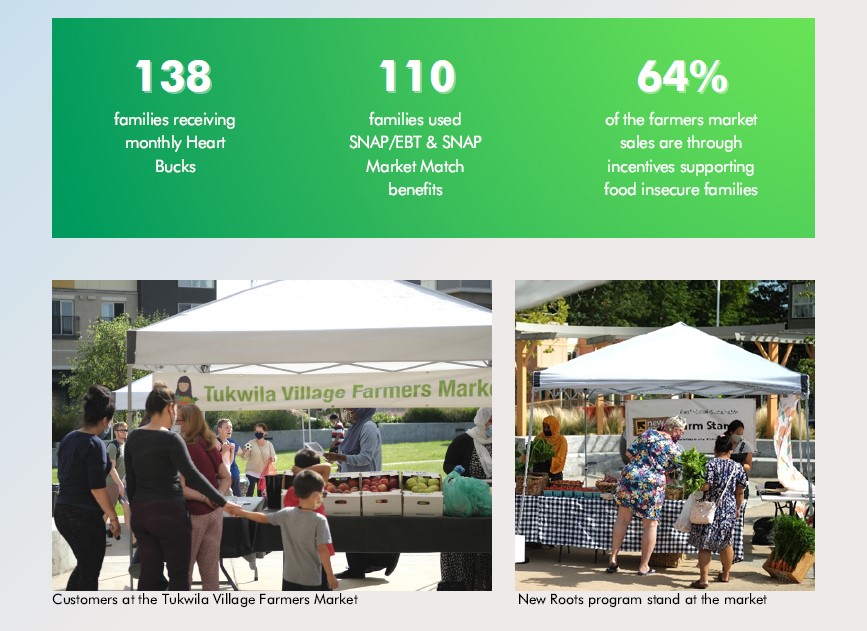 Our Tukwila Village Farmers Market also had a fruitful season with increased sales for our growers and improved access for community members. Community members experiencing food insecurity can purchase fresh fruits and vegetables at the farmers market with SNAP/EBT, SNAP Market March, and FIN's "Heart Bucks." In 2021, these programs helped community members purchase more than $17,000 of fresh and local produce.
We are determined to continue expanding our programs in 2022, and we are motivated to tackle the issues our communities face with the same grit and perseverance.