We just finished FIN's 2nd community kitchen event at the  SeaTac community center. I was excited because it was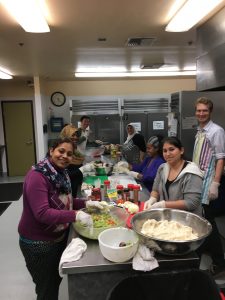 open to the whole community and many people showed up from the City of SeaTac and Highline College.  It was such a great experience to work with new people in the kitchen. I think everyone enjoyed the food and were happy about this event – the most important thing is that people walked out with new friends and new ideas.
A big THANK YOU to everyone that helped out. We couldn't do it with our wonderful advocates; Gladis, Lidia, Muslima, Zozan and myself.  Thank you for sharing dishes from your countries.
We are also thankful to all the volunteers, Seth Schromen- Wawrin, Colleen Brandt- Schluter and Erika Martinez we couldn't do with our help in the kitchen. Brian Tomisser and So Won Kim for organizing event and welcoming guests.
If you missed this community kitchen, stay tuned for the next one coming in Fall 2017!
Sheelan Shamdeen
June, 15,2017