Jazie Fresh Meals
Jazie Fresh Meals is an on-demand weekly meal service that was just launched this year (2017) in Kent. Owner and chef Jasmin King joins us for an interview as one of FIN's newest Entrepreneurs. 
Service Area: Pick Up or Free Delivery in Kent, $5-$10 from Tacoma to North Seattle
Availability: Orders Filled Every Sunday
Contact: (253) 259-4767
Website: jaziefreshmeals.weebly.com
Q: Tell us about your business?
I produce freshly made meals every week, which are rapidly cooled and may be reheated and consumed by my customers through the week. These meals are never frozen and are made with fresh ingredients, many of which are locally sourced. New menus are available every Wednesday and customers order by Friday for either pickup or delivery on Sunday. Customers can pick and choose how many meals and entrees they'd like to purchase and there is a discount for a full week's worth of meals.
Q: How did you get the idea for your business? What inspired you to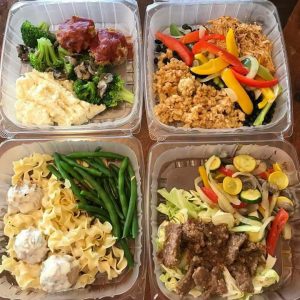 start this business?
When I started on my journey to eat healthier meals regularly, I realized how much time I put into preparing these meals. While I had the extra time, I knew most people wouldn't. I also researched blogs of folks trying meal preparation on their own. A common struggle was that people would end up having the same meal for a week at a time.
I want to help people get into a healthy eating lifestyle while not having to get stuck in the bland and boring routine that comes with not having enough time.
Q: What makes you stand out from restaurants?
My meals are prepared and quickly cooled so that you can reheat them on your own time, over the course of the week. However, a typical restaurant meal, even if it's healthy, will only stay fresh for a day or two. Since my meals are not made for service and you receive them cold, they are able to be kept fresh for a week instead of only a couple of days like leftover takeout.
Also, unlike restaurants, my menus also change on a weekly basis so that you don't get stuck with the same five meals every week.
Q: What do you like best about your work?
I love to cook and create new dishes. The task of making them so that they keep and taste good after reheating plus the challenge of keeping them low calorie always keeps me on my toes to create something new.
Q: What is your business' biggest challenge?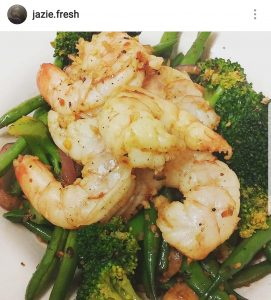 I think the biggest challenge will be growing customer base. I am sure that once word gets out it will be much easier to keep up business. But since I'm just beginning, it may be very slow for a while.
Q: What is something people might be surprised to learn about you or your
Cooking was not my first choice in careers. I was originally interested in science, but once I started cooking meals at home I became more interested and realized how much science went into cooking. I really saw how much more fun it was to create dishes and l knew it was what I wanted to do.
Q: What types of services or programs have been helpful?
Culinary school and working in kitchens have definitely been helpful in my journey and now that I am starting I can't wait to work with FIN and Ventures. I have only begun my journey with them and am looking forward to the extra support.
Get in touch with Jasmin and check out her Facebook page for the latest menus!