We're excited to introduce you to the food vendors that will offer cuisines from around the world at Spice Bridge, our new food hall opening on Sept. 8.

You may already be familiar with the vendor we're featuring today! Taste of Congo owner Caroline Musitu joined our Food Business Incubator in 2018, and has grown her business at pop-ups, catering events, and FIN's Taste Around the Globe booth at farmers markets. Caroline introduced herself in this video last year.

Originally from the Congolese city of Kinshasa, Caroline grew up helping her mother cater weddings, parties, and church meetups. Several years ago, Caroline fled armed conflict in the Democratic Republic of Congo and started a new life in South King County. Realizing there were no Congolese food businesses in our region, she launched Taste of Congo to share her home country's unique flavors with her new community.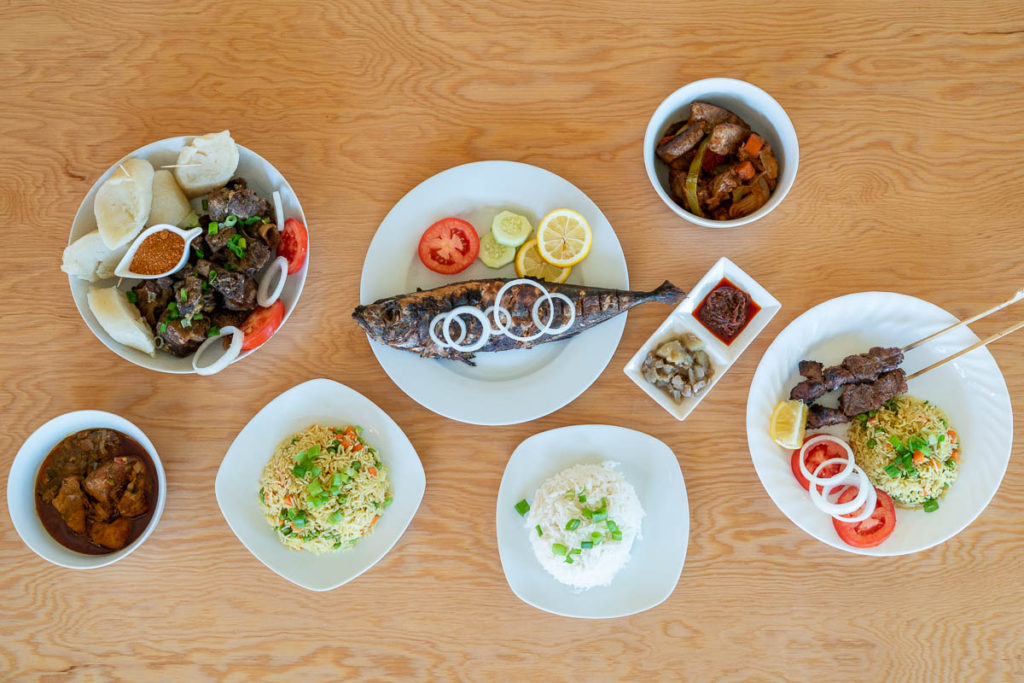 We recently spoke with Caroline about her Spice Bridge menu, what she's learned as a business owner, and her dreams for Taste of Congo.

Can you please describe a few of the dishes that you'll offer at Spice Bridge?
Ntaba, grilled goat, is popular to eat after work in Congo. I serve it on brown paper like they do in Congo. We eat it with kwanga [boiled fermented cassava], and we put toothpicks in the kwanga to make it easier to share.

We can also talk about beignet—they're popular, too! Mikate is the Congolese word for them. They're deep-fried dough. In Congo in the morning there are mikate vendors on the corners of the streets. They're out there early, at 6 or 7, so that when people get up for work they can come by to get breakfast. But you can eat beignet anytime—in the morning, afternoon, and evening. We like to eat them with peanut butter—it's so good!

And of course there's chicken stew, poulet a la moamba. It's a popular dinner cooked with onion, garlic, and tomato.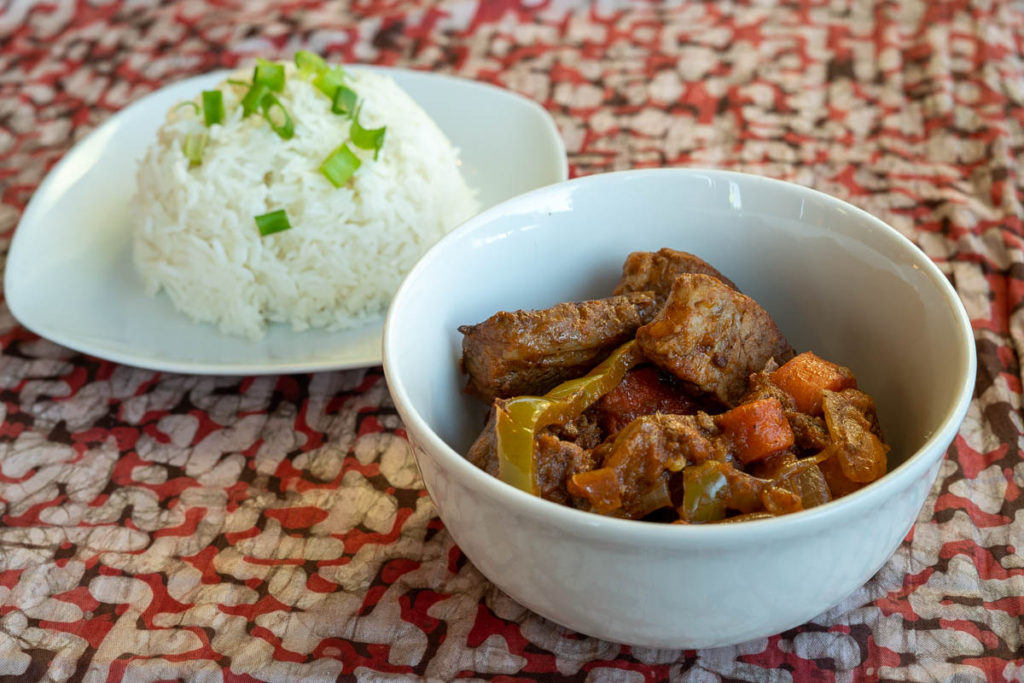 You joined FIN's Food Business Incubator in 2018. What have been some of the highlights of the last two years?
I didn't know how to start the business, but FIN helped me and made it easy for me to start. I've done farmers markets, pop-ups, and some catering jobs. The best experience has been setting up at farmers markets. I've met a lot of customers, including some that had lived in my country, and they got so excited to see Congolese food.


What have you learned, and how has your business changed?
I learned how to manage a website and do things online that I didn't know before. When COVID happened, FIN helped me set up an ordering website so people could order my food for pickup. I keep learning, and I know I will learn more as my business grows at Spice Bridge.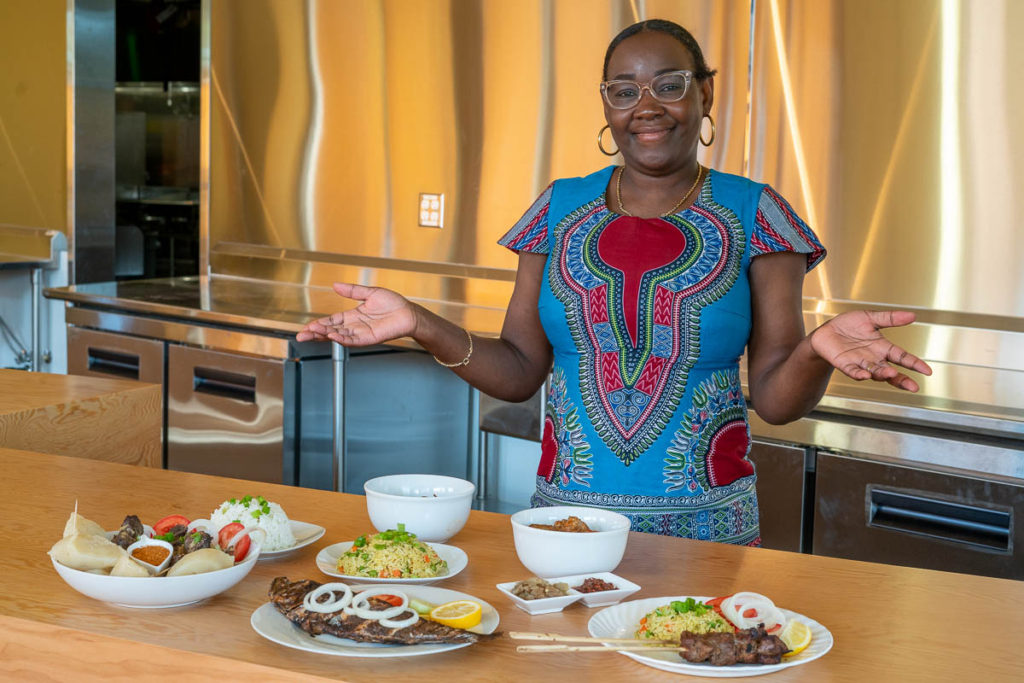 When you visited the Spice Bridge space for the first time last month, it was obvious that you were very excited. What will this new facility mean for you and your business?
It's a nice building, very beautiful! It means so much to my business. More customers will know me, my business will grow, I'll have more income, and I will be more independent.


What is your dream for Taste of Congo?
My dream is to see Taste of Congo become its own restaurant, and also offer packaged foods, like my chili sauce. I want to ship my foods all over the United States. I want for everybody to try them!


---

Visit Spice Bridge

Starting on Sept. 8, you're invited to come by Spice Bridge to order food from Taste of Congo and other vendors. We'll have takeout and outdoor dining available, and we're also working on delivery options—stay tuned!

Taste of Congo will be open at Spice Bridge on Tuesdays and Saturdays from 11 a.m. to 8 p.m., and on Sundays from 10 a.m. to 5 p.m. Taste of Congo is also available to cater events.

Contact Taste of Congo

Website: tasteofcongo.square.site
Phone: (206) 778-5615
Email: tasteofcongoseattle@gmail.com
Facebook: @tasteofcongo
Instagram: @tasteofcongoseattle

---