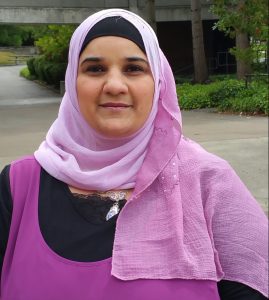 Sheelan Shamdeen, FIN Program Assistant
Sheelan Shamdeen, a Kurdish-Iraqi refugee, began working with FIN as a graduate of Project Feast's Apprenticeship Program. Also a client of StartZone at Highline College, she and her sister found support in planning their own Iraqi catering company – Soozveen. But catering is only a small part of her story. In fact, Sheelan looks at their catering company as tool to bridge her two identities as a Kursdish-Iraqi refugee and an American citizen – food is a platform for dialogue she says.
"We had 24 hours to leave and weren't sure where we were going." Sheelan and her family fled Iraq in 1996 when Saddam Hussein announced anyone associated with the UN would be publicly hanged. They, along with countless others, spent 3 nights under a tent with no passports – their only keepsake from home a teddy bear her sister had saved. Although they were safe once they reached Turkey, they had a long unknown journey ahead of them. Arriving in Guam, many families squeezed into tight living quarters for months while official paperwork was filed to enter the US with green cards.
Twenty years later Sheelan, her mother, and seven siblings are all US citizens. Many of those years have been spent teaching English to other immigrants and refugees at Highline College. Although she remembers every detail of her life in Iraq, she also embraces American culture and encourages newcomers to do the same.
"Many refugees feel this is only temporary – that this is not their home. But this is the place that helped my family survive and I believe I have two homes now." To her, she is truly accepted in America as a human being – not a Muslim or an Iraqi but as a person. Despite the things sometimes said in media and politics, she feels like she belongs here. Sheelan doesn't want any immigrant to lose their language or culture but believes it is important to also feel at home here. In America it is possible to celebrate both patriotism and cultural diversity in the same breath. Sharing Iraqi food with people is just one way that she can start conversations about cultural identity.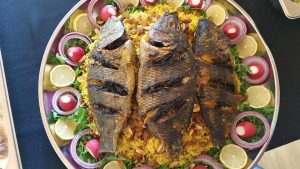 Over two years have passed since Sheelan was first introduced to FIN. She was part of the first group of Community Food Advocates, recently joined the first cohort FIN Entrepreneurs and, in September 2016, took a staff position as FIN's Program Assistant. Being a refugee means Sheelan knows what it feels like to start something from nothing. She brings compassion into her work and is quick to respond in a moment of need. All she asks of those around her is to be open minded.
Sheelan's advice to all people: "Ask questions before assuming you know someone's story. Keep learning –there are so many free resources out there. And if you can't find anything to learn then start a conversation with someone new."
by Allison Mountjoy
January 9, 2017, 10:30AM PST